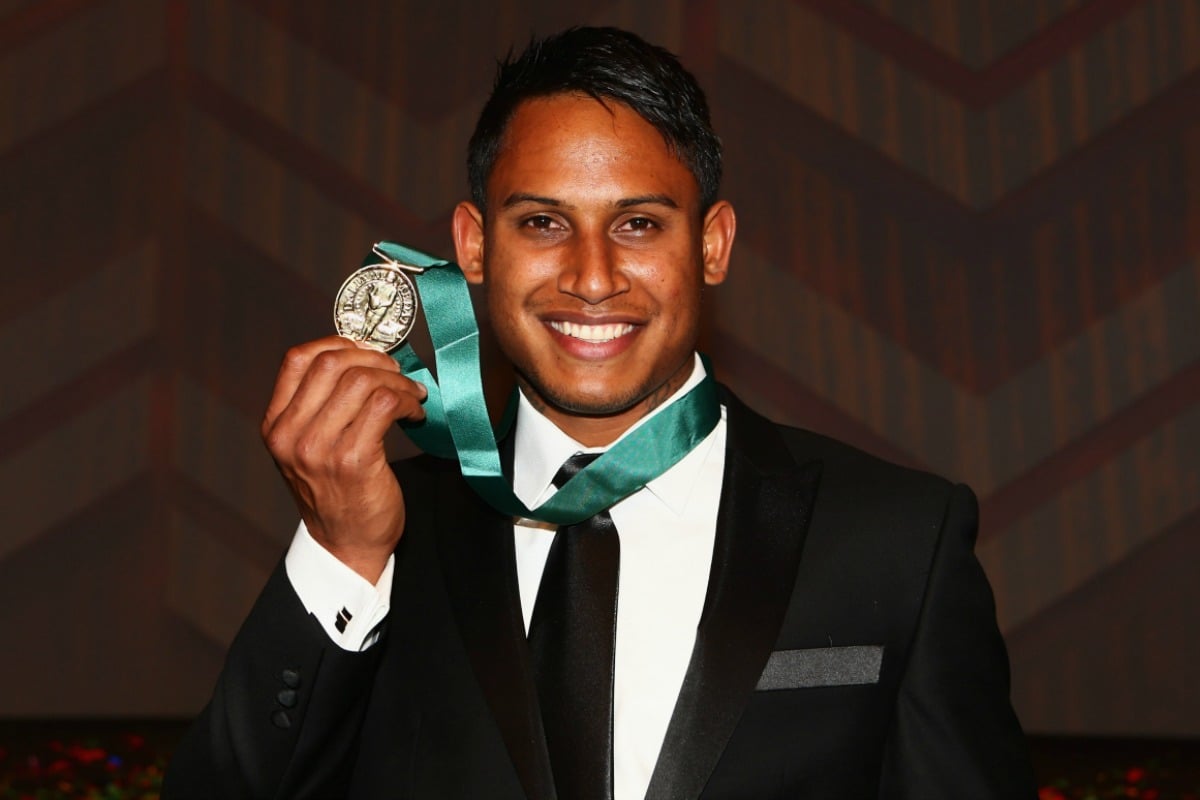 What has it taken for the National Rugby League to stand up and say "Enough"?
It's taken a video that allegedly shows a 29-year-old man – Ben Barba, one of the most talented rugby league players to ever pull on a jersey – throwing rocks at the mother of his four children in a public place.
The footage was captured on the Australia Day long weekend, and it is now in the hands of police, the subject of an investigation.
On Friday evening, the existence of that video was what it took for one club – The North Queensland Cowboys – to choose decency and integrity over the prestige of their new, shiny big-name player.
When it became clear that the CCTV video showed an "altercation" between Barba and his long-term partner Ainslie Currie in the car park of Townsville's The Ville Casino, the Cowboys tore up his $300,000 contract immediately.
And now Ben Barba will never play in Australia again. He has been deregistered, effectively banned for life.
Because the video was also what it took for a clearly frustrated and emotional Todd Greenberg, CEO of the NRL, to stand in front of cameras today and say what so many – both inside and outside the football world – have been wanting to hear: "Enough."

"I can't see a time at any time in the future he'll be welcome back," Greenberg said of Barba, as reporters asked him if the NRL was taking a new stand. "It's time for Ben Barba to find a new vocation."
"Where we see violence and violence against women, we will act," he went on. "I thought that message was pretty clear over a long period of time but if it wasn't, it will be today."
"The game has been damaged significantly… We're going to get tougher and we're going to get stronger."
It's been called a "horror off-season" for the NRL. The game has been damaged. So have the lives of many women.
There's been Barba, who hadn't yet played a game for the Cowboys. The Dally M winner had only just arrived in north Queensland, fresh from a stint in northern England where he fled after testing positive to cocaine after winning a premiership with the Cronulla Sharks in 2016. He and Currie have been together since he was a teenager, have four daughters and were briefly separated in 2013 after reports of violence. Charges were never laid.
Before Barba there was Jarryd Hayne, who no longer plays for any NRL club but is still one of the code's most recognisable and celebrated players. He's been charged over the alleged sexual assault of a 26-year-old NSW woman in the Hunter Valley. The details of the alleged attack have been splashed across the headlines for their viciousness, and Hayne is out on bail while the case makes it way to court.