First, models at the Venice Film Festival brought side vag. Then, Chrissy Teigen said "I can do one better" and gave us full-frontal labia at the American Music Awards.
Now, Victoria's Secret model Bella has done away with the sacred lady space altogether. "Pah!" she exclaimed at Christian Dior's masquerade ball in Paris on Monday night, "vaginas are old news".
And with that sassy statement, she gave us the next nudie ~fashun~ trend.
Nipples. Full frontal, areola-abundant nipples.
No, seriously. I mean it.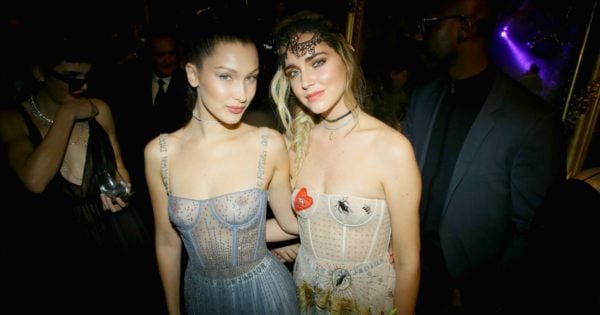 BAM. PERFECT NIPPLES. RIGHT THERE.
The 20-year-old donned a sheer blue, sparkly frock for the fancy ball - complete with Christian Dior boxer shorts underneath because... actually... don't ask me - I have no clue why. Apparently that's just a cool thing to do under designer gowns now. (I wouldn't know this, because I spend my life in two things: jeans, or my decade-old dressing gown.)
Bella posted ample boobylicious photos to her Instagram Story, too. And her idyllic, pint-sized, never-breast-fed-in-her-life nipples were on total display the entire time.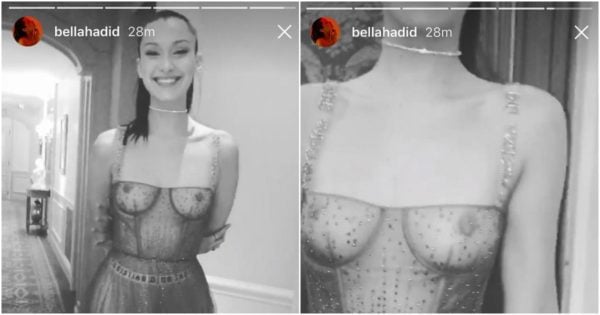 Luckily for Bella, her nipples are precisely the right size to be considered "on trend" right now (let's all eye roll together, shall we?).
You see, the boob flavour of the month - according to Britain's The Plastic Surgery Group - is teeny tiny nips. Itty bitty ones that are only possible if you're A) a genetically blessed 20-year-old freak, B) childless, or C) buy the ridiculous/expensive myth that your nipples need cosmetic reshaping (they don't, by the way - I have it on good authority that big nips are due for a resurgence this spring).
Mind you, Bella has also gone COMPLETELY rogue on Vogue's "boobs are out" declaration. In November last year, the fashion bible said "the tits will not be out for the lads. Or for anyone else, for that matter," for the foreseeable future.
WHAT DOES THIS ALL MEAN? ARE NIPPLE DRESSES IN OR ARE THEY NOT?
Let's just hope this is a "fashun thing", and not a thing that we'll be seeing at local Year 12 school formals, shall we?
For the sake of parents everywhere, we shall.
What do you think of the nipple dress?
LISTEN: Ahhhh, the days of full frontal vag now seem so simple.