First, models at the Venice Film Festival brought side vag. Then, Chrissy Teigen said "I can do one better" and gave us full-frontal labia at the American Music Awards.
Now, Victoria's Secret model Bella has done away with the sacred lady space altogether. "Pah!" she exclaimed at Christian Dior's masquerade ball in Paris on Monday night, "vaginas are old news".
And with that sassy statement, she gave us the next nudie ~fashun~ trend.
Nipples. Full frontal, areola-abundant nipples.
No, seriously. I mean it.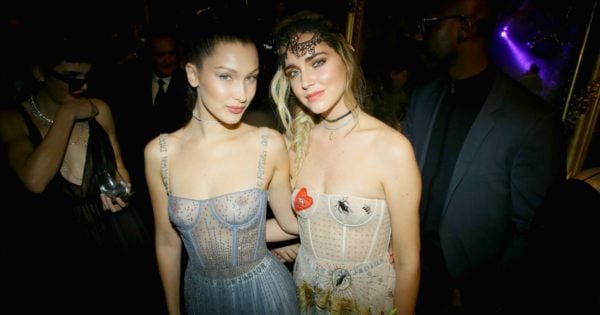 BAM. PERFECT NIPPLES. RIGHT THERE.
The 20-year-old donned a sheer blue, sparkly frock for the fancy ball - complete with Christian Dior boxer shorts underneath because... actually... don't ask me - I have no clue why. Apparently that's just a cool thing to do under designer gowns now. (I wouldn't know this, because I spend my life in two things: jeans, or my decade-old dressing gown.)
Bella posted ample boobylicious photos to her Instagram Story, too. And her idyllic, pint-sized, never-breast-fed-in-her-life nipples were on total display the entire time.