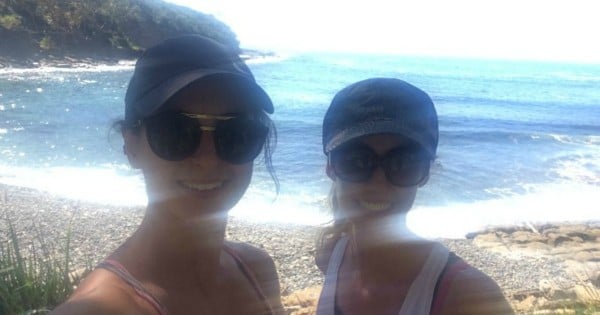 I bloody love Holiday Me. I'm relaxed. Happy. Carefree. Well fed. Content. Which is a bummer really, because yesterday marked the end of my summer break.
A permanent sabbatical isn't really an option, so I've decided to bring as much of my holiday vibe as I can into everyday life. Yes, I've traded sand between my toes for the click of a keyboard under my fingers, but, damn it, I will hang onto those bits of holiday gold as much as I can.
Starting with…
1. Nibbles…
"I'm going to really miss cheese and biscuits every night before dinner," I said with a sigh to my husband on our journey home on Sunday. I'm no psychologist, but I'm fairly certain that standing around with your family munching on blue cheese and hummus brings happiness. Which is why I'll be kicking off dinner tonight with a cheddar and water cracker tribute. Minus the beach views, unfortunately.
2. No plans…
I'm a woman with a plan. I like lists. I like lists within lists. I like to start my weekend knowing exactly what exercise endeavours and shindigs are coming at me. But after a week on holidays, an interesting thing happened.
My busy brain decided to let go and I was quite happy to wake up in the morning with absolutely zero plans and zero idea of what I might be doing that day. Disaster didn't strike. Life was blissful, rather. Needless to say, my diary is free this weekend.
3. Less TV…
Upon realising there was no Netflix where I was staying, I briefly considered hopping back in the car so I could continue my dalliance with Frank Underwood. Incredibly, not watching a couple of hours of TV every day frees up time. Lots of it. Which makes way for my next point…
4. Pimm's…
Why is a delicious, cucumber-y glass of Pimm's reserved for Christmas time only? Bottoms up.
5. Reading…
In 2015, I could count on one hand how many books I read. Yes, it's an embarrassing thing for someone who writes for a living to admit. I decided to put down my smartphone (occasionally) in favour of putting up my sandy feet and getting stuck into a book. Reading – it's certain to be the "clean eating" of my 2016.
6. Nature walks…