Being a bull rider's girlfriend is rewarding and fun, but it also has it challenges. You have to be a strong woman to understand that you come second to his love of bull riding. And there are many times I watch my fiance buck out of the chutes with my heart in my throat, praying that he will walk away with his life.
When your partner is a Professional Bull Rider you learn a lot about love – when to be tough, when to pull back and when to be supportive. The past two years with my fiancé Troy Wilkinson, a leading Australian bull rider with eight years professional experience, have seen a lot of ups and downs. However these only make our trust and love for each other grow stronger.
Nadia Bartel on what a WAG does all day? It could surprise you.
Growing up riding horses I always had an interest in rodeos and Professional Bull Riding (PBR). While I would never jump on a bull myself, I always admired the hard work of the professionals. Like any thrill seeker out there, Troy expresses this mentality both on and off the dirt.
Initially friends on Facebook but never having met, Troy messaged me multiple times asking if I was attending the local rodeo. I was always cautious with the reputation of bull riders as Casanovas so I didn't reply. Persistent as ever, at one event Troy managed to find me as I was leaving the showground and within a few minutes he charmed me like no one ever had. I guess you can say the rest is history.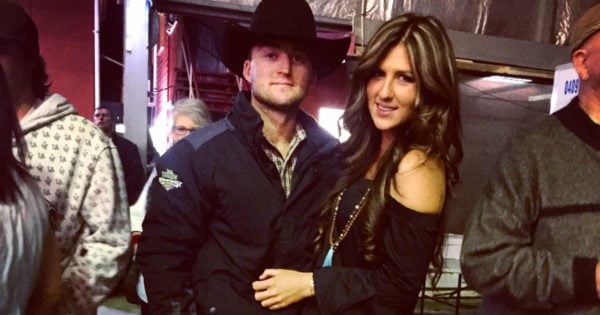 Since we've been together I have attended almost every PBR event with Troy, whether near or far. My favourite event so far was in Albuquerque, New Mexico as the atmosphere was like no other. The events are a great opportunity to catch up with other riders and their partners as well. We often go for drinks to catch up with the whole PBR crew after an event. It's a fantastic atmosphere as no-one is competitive outside the arena and we get along really well.