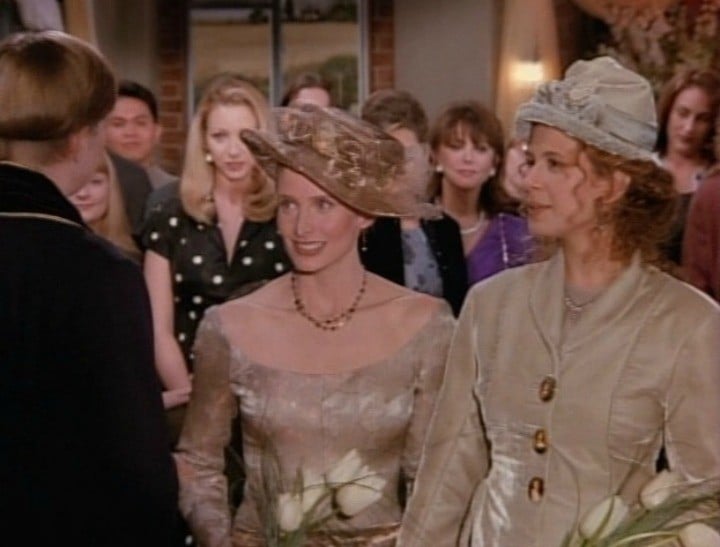 We truly didn't think there was anything left to know about FRIENDS. We were wrong.
To celebrate Jen Aniston's 46th birthday, The Huffington Post interviewed set decorator Greg Grande and art director John Shaffner and found out 8 things we never knew about the show.
EIGHT. THINGS. That's 1.5 things for every member of the core cast.
When we heard this, we were all:
We'd only just recovered from seeing what Ross and Rachel's baby girl Emma looks like now she's all grown up. But, probably like you, we love the show enough to always, always care when something new is revealed.
Without further ado…
The new eight things we didn't know about Friends.
1. The orange couch in Central Perk? It was found ripped and tattered, deep in the corners of a prop basement.
Before the Friends stars were making a cool $1 million per episode, the series started up with just a regular sitcom budget.
"The first thing I did was scour the Warner Bros. prop house," Grande explained. "Literally in the basement, deep in one of the corners of the basement, was this sofa that was absolutely beautiful and the line of it was just gorgeous. It was very tattered. We cleaned it up a little bit, it had quite a few rips in the fabric. But we cleaned up."
2. The frame around the peephole was originally meant to have a picture in it.
"I originally had it as a picture frame that had a back on it," Grande said. "And while we were dressing the glass in it broke and I told one of the guys, 'Well let's see what that frame looks like around the peephole.' And they put it up there for me and that's where it lived for the next 10 years. It actually was as simple as that. Kind of a funny mistake."
3. Matthew Perry was Chandler.
Chandler's awkwardness around women and his classic emphasis on the 'be' was based off Matthew Perry.
In an interview with People in 1995, Perry said, "These characters are slightly exaggerated, slightly more entertaining versions of ourselves."
Want more? The 'Friends' prop you never noticed explains the biggest plot hole in the show.
Aniston added, "he has this way of speaking, using questions like, 'Could this be any more this or that?' So they wrote an entire episode about how everybody at his office makes fun of him because of the way he talks."
4. The cast were scared of Matt LeBlanc before they met him.
Also from People, Aniston explained how LeBlanc was perceived before he'd even met the cast:
"I was scared of that type of guy," said Aniston. "He thinks it's very funny now. And actually, he can sit down and comfort me just like Courteney or Lisa could."