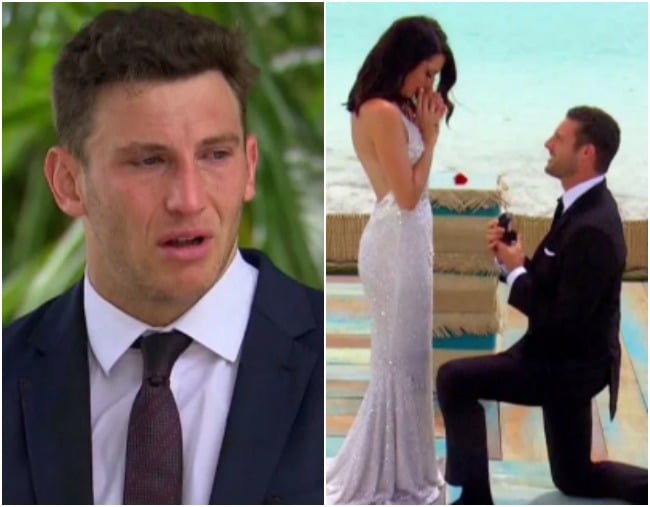 SO.
Rose-themed justice has just been served.
You see, Becca Kufrin has just become engaged on the season finale of The Bachelorette. 
Yep, take that Ari.
In case you missed it, Becca appeared on the last season of The Bachelor. Ari chose her as his final pick and then spectacularly dumped her on national TV.
It was kind of like the Blake Garvey/Sam Frost situation but much more extreme and more… American. 
Now Becca has proven that, erm, reality TV love comes to those who wait ¯\_(ツ)_/¯.
During Monday's finale episode, she chose Garrett as her preferred reality TV boyfriend and he got down on one knee and proposed to her.
She said… YES. And a million rose petals fell from the sky/the American version of Osher did a lil' dance/and everyone lived happily ever after etc etc.
However, not everyone is happy with Becca's choice. Many fans commented on social media saying she had made the wrong choice and predicting that she would 'do an Ari' and turn around and choose Blake over Garrett.
Here are the best reactions from Twitter:
Okay you're engaged! Now please never say Arie's name again. #thebachelorettefinale

— zenreality (@zenreality) August 7, 2018
Me rushing to Maldives to comfort Blake: #TheBachelorette pic.twitter.com/AjL4O5TUjd

— Andi Dorfman Fans (@AndiDorfmanCrew) August 7, 2018