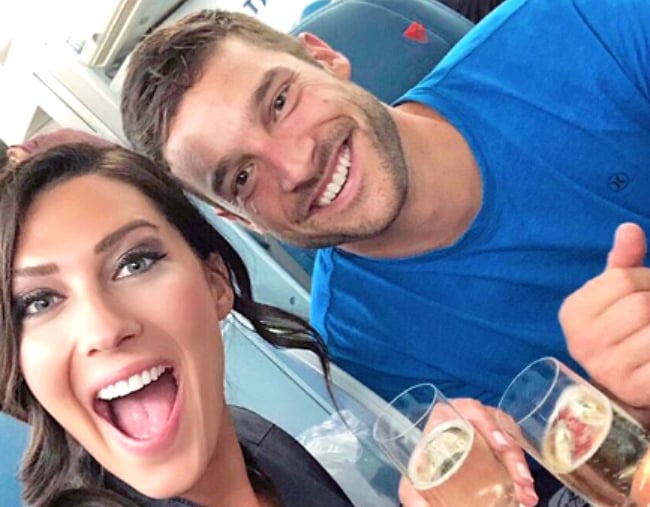 On last night's The Bachelorette US finale, Becca Kufrin finally got her happy ending.
After a false start last year when 2017 Bachelor Ari Luyendyk Jr. proposed to her, then unceremoniously dumped her for his runner up, the entire world was rooting for the 28-year-old publicist from Minnesota to find love.
Only, she chose wrong. According to Twitter, that is.
As soon as her winner Garrett Yrigoyen dropped to one knee and whipped out an 18-karat gold diamond engagement ring, fans were outraged.
How could she not have picked Blake?! the people cried.
Blake was so obviously right for her in every single way, GOD DAMMIT! (For clarification, this is a Blake Horstmann we're talking about, not Blake Garvey.)
Oh you did the damn thing alright, Becca. THE. WRONG. DAMN. THING. #TheBachelorette pic.twitter.com/sHOexNFitU

— Erin Berson Byrnes (@erinberson) August 7, 2018
I am… not OK? #TheBachelorette pic.twitter.com/26F5fKaEgD

— Emma Gray (@emmaladyrose) August 7, 2018
Becca always thinking 'it was going to be Blake' and now choosing Garrett is #TheBachelorette   equivalent of changing your answer at the last minute on a multiple choice test.

9/10 times you were right the first time! pic.twitter.com/qkX8w77pgL

— Katie MacKay (@Kat__Mackay) August 7, 2018
Is it to late for Becca to pull a Arie?! ???? #thebachelorettefinale

— Jenna Harris (@jennaalyese) August 7, 2018
But guys, we really should know better than this by now. It's time to face up to the real reason our Bachelor favourites never, ever win.
It's just not real.
I'm a die-hard Bachelor and Bachelorette fan who gladly surrenders her social life to the couch for the months August through September. But somewhere along the line, the shine started to rub off Osher's 'they're here to find love' story.
Don't get me wrong – it's a story I'll go along with. But should we really still be surprised – angry, even – when our Bachelor or Bachelorette favourite doesn't win in the end?
As much as we want it to be real, it's not. Yes, The Bachelor franchise is still Australia's prestige reality TV dating show when compared to counterparts like Married At First Sight and Love Island. But while we're being dazzled by glistening, freshly hosed down driveways and dates on super yachts, it's easy to forget everything is manufactured, as bona fide Bachelor expert and author Amy Kaufman told Mamamia's No Filter podcast…
Want to hear to more?  Subscribe to No Filter.
Like with many Aussie Bachelor and Bachelorette winning couples – Georgia Love and Lee Elliot, Richie Strahan and Alex Nation, Sophie Monk and Stu Laundy – we often can't understand why the stars don't go for the runner up. The person who we, the viewers, could tell was clearly the one for them.
What we don't see, though, is the certain magic between two people who might not be compatible on paper, but just work. That kind of chemistry isn't always as easy to film or edit.
When it comes down to it, we fall in love with certain characters because the producers want us to. The reason our favourites become our favourites is down to production. It's that knife in the heart feeling you get in your gut watching Jarrod walking away, with the sand crunching beneath his feet, that keeps us coming back for more year after year.
But don't ever feel sorry for the runner up, OK?
They'll inevitably get their chance to mend their heartbreak the following year anyway.
Do you ever think reality TV dating contestants are actually trying to find love, or only fame? Tell us in the comments section below.