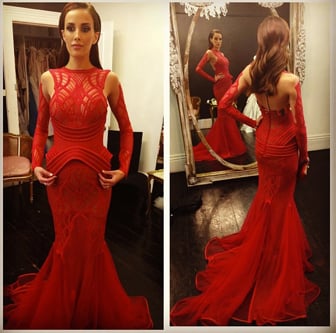 Seeing what J'Aton Couture creation Rebecca Judd wears has become one of the most anticipated part of the AFL's Brownlow Awards.
So, this year there was a J'Aton-Judd shaped hole in our hearts when the Postcards host missed this year's ceremony. (Given her husband Chris Judd had retired and she was weeks away from giving birth to twins, it's entirely understandable.)
But we've finally got our fix to make up for it.
To celebrate the launch of the J'Aton Couture X Jaggad activewear collaboration, Judd wore what might be our favourite number from the designers yet, who she has worn almost exclusively for red carpet events over the last few years.
A canary yellow mini dress with lace detailing, it's feminine, oh so summery and don't get us started on those sleeves…
We just don't envy the person who had to do up all those buttons.