There's a reason your makeup will never look as "flawless" as your favourite beauty YouTubers – and it's got nothing to do with your skills.
Makeup artist (and fellow YouTuber) Wayne Goss has exposed the "trickery" he alleges more and more makeup artists and beauty YouTubers are using in the videos, slamming it as "fundamentally wrong".
The secret? A skin-smoothing camera filter that he believes is akin to "living photoshop".
"This is one of the most fundamentally important videos I've ever done," he begins the video entitled "WARNING. YOU'RE BEING LIED TO. PLEASE WATCH. THANK YOU."

Starting the video wearing no makeup and using only natural light Goss, who has over two million subscribers and his own makeup brush line, first demonstrates the difference professional lighting can make, a feature that has become a given in most makeup tutorials.
"I'm really honest about how I film, in that I film with this big strip of lights. And when these lights are turned on, they make you look infinitely better so people go 'Your skin looks so good Wayne, you're ageing backwards'. That's not the case," he says.
"That's why I tend to look better in videos than I do in real life. I've always been honest about it."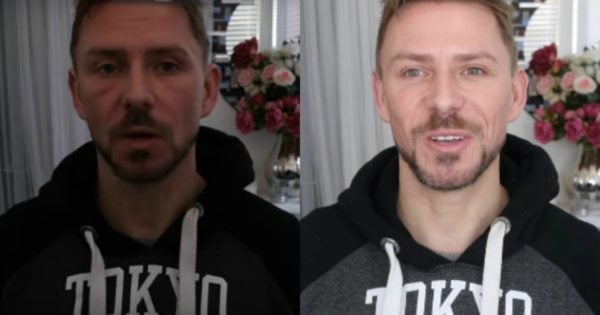 Left: In natural light, right: professional lighting. Image: YouTube/WayneGoss