Yes, I'm a Bearded Lady and no – I'm not "grateful" for your attention.
"I actually like women who look like you."
How do I begin to explain what is wrong with that statement?
Here I am: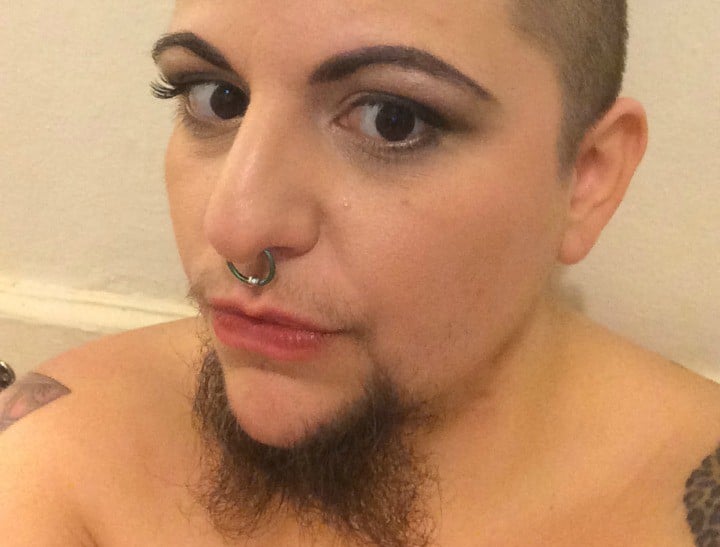 How do I tell a generation of women, pumped full of conditioning that tells them—beauty is the rubric and romance is your reward—that there is no second place and there is no consolation prize when it comes to self-worth?
How do I assert that no one who chooses to live out loud is "asking for it?" Catcalling, entitlement, and body-shaming exist among all people and to all genders.
However, there is an expectation among people like me whose appearance is deemed "othered." Take your pick: chubby, hairy, bearded, tattooed—whatever it is, when the opportunity for affection comes along,
GRAB IT.
Hang on to it, and do your best not to fuck it up, because you're lucky you're getting any affection at all.
And that stuck. For many years I stayed in relationships where my body was put on exhibit like an assembled mass of dinosaur bones and subject to scrutiny.  And in that time, two verdicts always arose:
1. "You are revolting because of your [blank]."
Or
2. "You are sexy because of your [blank]."
And I have sad news for all the fetishists and "chasers" of the world: both of those statements are two sides of the same goddamned coin.
Tackling Vile Statement #1 brings to light the important topic of consent.
I used to be an active member of the "Bearding Community" (yes, actually a thing) where cis men would gather and trade photos of their impressive beard, and talk about how strong and manly and virile they were because of a bunch of follicles that sprout from their face.
It was bonding. It was communal. It was congratulatory.
Then I posted a picture of me, and of MY beard. It was divisive. It was isolating. It was strange. But most of all, it was "othered," which made it open season for admonishment.