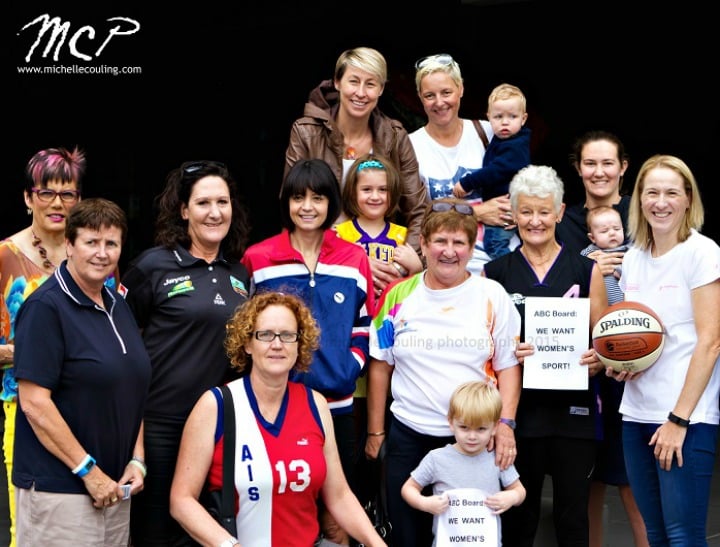 We need to sign this petition if we want younger girls to have sporting role models to look up to.
Women basketball players are campaigning hard against the Government's decision to reduce live sport coverage on the ABC. Why? Because the changes will unsurprisingly hit women's sport the hardest.
Australia's top female basketballers have put a petition forward to ABC studios in most of Australia's major cities. The petition has signatures from big names such as Lauren Jackson, Rachael Sporn, Michele Timms and Jenny Cheesman.
Carolyn Watts, a WNBL team forward organised the 5000-signature petition and gave it to the ABC studios. The petition is specifically geared toward the WNBL coverage cuts, but is also a response to the budget cuts across the sporting board.
Watts spoke to Mamamia and said, "The cuts are a huge step backwards for women's sport. Women's basketball has a huge participation base. Broadcasting exposure encourages young women to participate, to aspire to achieve. These women are strong positive role models."
"Worse case scenario clubs close, players go overseas, the league shrinks, participation drops and medals disappear," she told us.
Related Content: Devastating: This week has been crippling for Australian women's sport.
The petition starts with a direct message to the Managing Director of the ABC, asking Mark Scott to ensure the continuation of the live broadcasting of the Australian Women's Basketball League. The petition continues to explain that the recent budget cuts has seen the end of live coverage for women's basketball, which will have a hugely negative impact on the sport in general.
"The ABC are an important long term partner. I hope they know that they have made a huge contribution to Australia's international success. We want them to continue to be," Watts says.
"It's not just an investment in entertainment, ABC are contributing to women's health, medal success and children's physical activity. I now wonder whether they knew how important they were."
Related Content: Why 2014 really was the year of Australian women in sport.
The petition explains that current and future participation for younger women and international medals relies on the coverage to stay. It points out that, "The ABC has broadcasted the WNBL since its inception in 1981, a 35-year-old partnership."
The impact that these cuts will have on future generations of female athletes is enormous. Australian women's basketball has produced some world class athletes including Penny Taylor, Lauren Jackson and Michelle Timms. But for more young women to take their places, they need to be able to watch their heroes on screen and to dream big.
The televising of the sport has been what's provided professionalism to women's sport. It has allowed women's sport to grow and prosper in the last decade because it has provided funds by bringing in sponsors and fans.