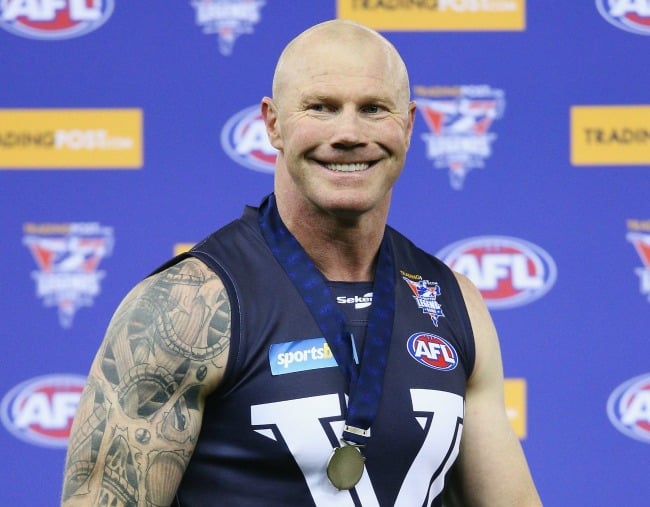 While Barry Hall was rightfully reprimanded for his vile comments on a Triple M radio program on Friday, many are wondering how the men who appeared on the show alongside him – particularly Leigh Montagna – managed to escape unscathed.
The former football star was fired immediately from the radio station after Montagna brought up a conversation about a common medical procedure his wife, Erinn, had while in labour.
More commonly known as a "sweep", Montagna, another former football player, was all too happy to discuss his wife's intimate procedure with his all-male co-hosts, Hall, Mark Howard, former AFL star Nathan Brown and journalist Damien Barrett.
"The obstetrician just has a little feel and makes sure that she's starting to dilate, and puts a couple of fingers up and checks…" Montagna, 34, said on Triple M on Friday, as his co-hosts laughed.
The fact Montagna was willing to openly discuss his wife's "sweep" was shocking enough, but then Hall, 41, took it a step further.
Mamamia has chosen not to publish Hall's grotesque comments.
Despite their crudeness – and the fact they glamourised sexual abuse – Hall's comments prompted more laughter from the guys on the program.
As disgusting as Hall's comments were, many are wondering why he was the only one who was punished, especially when all of the other men on the program were willing participants.
Hall was fired immediately as a result of his remarks, while the other guys – including Montagna, who initially brought up the discussion about his own wife – got off lightly.
As reported by Daily Mail, many are now calling for Hall's co-hosts to also be reprimanded for their involvement in the conversation.
"Surely, how do they get to that point in the first place. What was Leigh Montagna doing talking about his wife like that?" sportswoman Liz Ellis said on Channel Nine's Sports Sunday, as reported by Daily Mail.