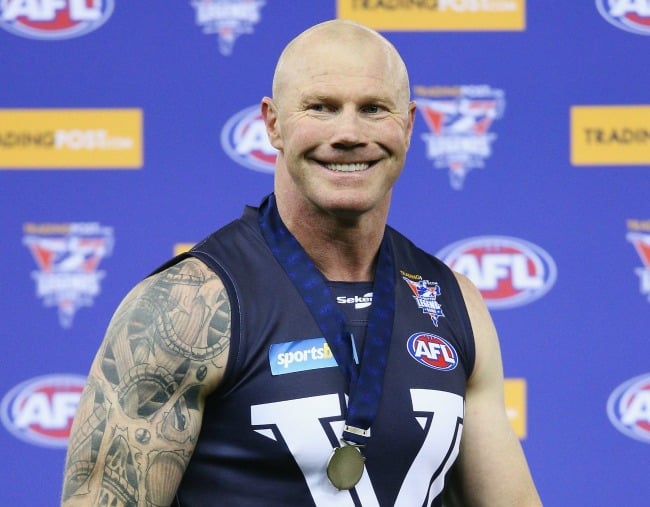 While Barry Hall was rightfully reprimanded for his vile comments on a Triple M radio program on Friday, many are wondering how the men who appeared on the show alongside him – particularly Leigh Montagna – managed to escape unscathed.
The former football star was fired immediately from the radio station after Montagna brought up a conversation about a common medical procedure his wife, Erinn, had while in labour.
More commonly known as a "sweep", Montagna, another former football player, was all too happy to discuss his wife's intimate procedure with his all-male co-hosts, Hall, Mark Howard, former AFL star Nathan Brown and journalist Damien Barrett.
"The obstetrician just has a little feel and makes sure that she's starting to dilate, and puts a couple of fingers up and checks…" Montagna, 34, said on Triple M on Friday, as his co-hosts laughed.
The fact Montagna was willing to openly discuss his wife's "sweep" was shocking enough, but then Hall, 41, took it a step further.
Mamamia has chosen not to publish Hall's grotesque comments.
Despite their crudeness – and the fact they glamourised sexual abuse – Hall's comments prompted more laughter from the guys on the program.
As disgusting as Hall's comments were, many are wondering why he was the only one who was punished, especially when all of the other men on the program were willing participants.
Hall was fired immediately as a result of his remarks, while the other guys – including Montagna, who initially brought up the discussion about his own wife – got off lightly.
As reported by Daily Mail, many are now calling for Hall's co-hosts to also be reprimanded for their involvement in the conversation.
"Surely, how do they get to that point in the first place. What was Leigh Montagna doing talking about his wife like that?" sportswoman Liz Ellis said on Channel Nine's Sports Sunday, as reported by Daily Mail.
"And Mrs Montagna, what must she be thinking? Her husband is up there talking about her. It is a very intimate thing having an examination there with a doctor. The husband is talking about it and then Barry is joking about it. I don't get it."
And she wasn't the only one who thought the other guys were unfairly excused.
"I was really distressed by the fact that they just kept talking and some of the biggest names in AFL were there with him and they didn't stop him at any point and say that it was wrong," football presenter Shelley Ware said on Channel Nine's Today.
"So that made the whole thing just that little bit more disturbing."
But it isn't just Ellis and Ware who took offence at the involvement of Hall's co-hosts.
Twitter has been flooded with people outraged that Hall has been the only one to face any repercussions on the back of the shocking conversation.
What Barry Hall said was vile and hideous.But if you listen to the actual audio Leigh Montagna himself said something awful too about a personal medical procedure regarding his pregnant wife and set up the direction of the conversation.All round gross boys club banter #barryhall

— Lucie Morris-Marr (@luciemorrismarr) June 29, 2018
#barryhall is being raked over the coals for being a sheep in that conversation. Yes he said something weird & inappropriate but why the hell were they talking that way in the first place!! Leigh should never NEVER have spoken about his wife like that & deserves half the blame.

— Dean Ronson (@flapsaredown) June 29, 2018
The other blokes called him out and shut him down.

They told him his comments were unacceptable.

Nah, jks they just laughed. #BarryHall

— Carlie Walker ❄️ (@CarlieAnnMousie) June 29, 2018
Yes, #BarryHall was fired, and rightly so, but why did #LeighMontagna discuss this part of his wife's pregnancy live on air? And, collectively, ALL involved laughed at Barry Hall's vile "joke" that actually sexualised a pre-birth procedure that is so NOT funny! #RespectWomen

— AFLFootyChick (@aflfootychick) June 30, 2018
Let's talk about the fact that Leigh Montagna graphically described and arguably sexualised a medical procedure performed on his pregnant wife.

This stuff IS violence against women. Gross gross gross. #barryhall

— Gemma Cafarella (@gemmacaf) June 30, 2018
What do you think? Should Hall's co-hosts be reprimanded for their involvement in the segment? Let us know in the comments.