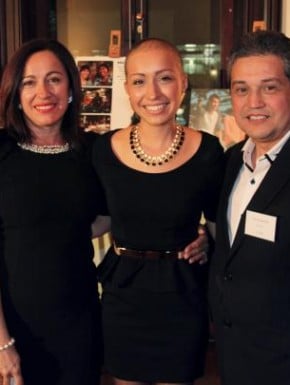 If ever there was a teenager with a zest for life, it was Cassie Nascimento.
And though the bubbly teen lost her battle with cancer in December last year, the legacy she left behind her is truly remarkable. 
From the moment she was diagnosed with brain cancer at 16, the teenager used whatever energy she had towards being an involved ambassador for the You Can campaign to establish youth cancer centres in Australia. 
Earlier this week, Cassie's mum was presented with the Barnardos Mother of the Year Award. 
And today, while we remember Cassie's generosity of spirit, we also want to acknowledge her family. 
We want to pay special tribute to her mum, Gloria, who kept the spirits of her daughter high during such a tough time in both of their lives. 
In the years following Cassie's diagnosis, Gloria attended every doctor's appointment with her and held her hand throughout Cassie's recovery process. She would sleep on the hospital floor next to her daughter's bed and drive between Wollongong and Sydney constantly and without complaint to be by her side.
Through all of this, Gloria also reached out to Jason Carrasco, a young man diagnosed with testicular cancer at 19. He nominated Gloria for the award for being like a second mum to him despite her own personal pain. 
In tribute to such a beautiful family, we present below an article written by Cassie last year about her dreams for the You Can Centre. This is a place for other teenagers with cancer to experience the same level of support she received from her own family. 
My name's Cass Nascimento. I'm 19 years old and have been struggling with brain cancer for the past three years. I was first diagnosed when I was 16. I had been having crippling headaches, nausea, double vision, and I had gone to the hospital with a letter from the doctor to have an emergency MRI. When I got there, the doctor told me I was just a teenager who was just stressed with exams and was sent home with strong pain relief, but my parents weren't satisfied with this outcome. They organised private MRI days later, by this time I could barely walk. We took my scan to a neurosurgeon, who told me I had a very rare pineal brain tumour. He immediately sent me to hospital, where I had an emergency surgery that night to relieve the pressure. So you can imagine that all of this came as a shock to both me and my family. Everything just happened so quickly.