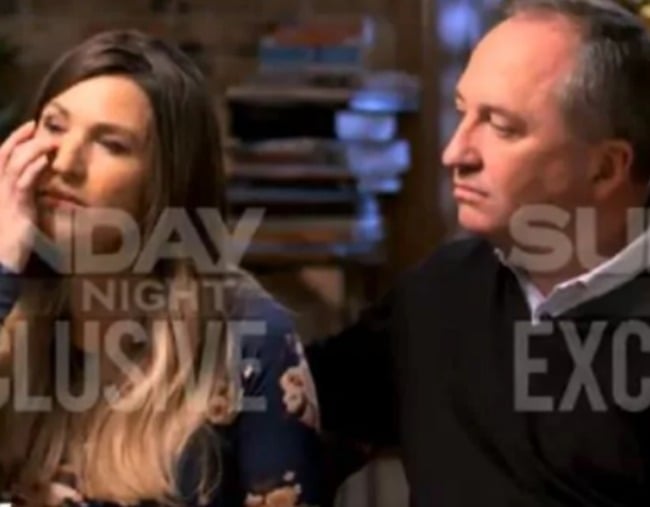 In a preview for their widely publicised upcoming interview with Channel 7's Sunday Night, Vikki Campion and Barnaby Joyce claim they were pressured to abort their son.
The clip, which promises audiences an insight into Campion's untold side of the story, features emotional footage of the couple as they speak openly for the first time about the controversy surrounding their relationship.
"Everything was worth it for this," Campion says alongside footage of her baby son.
"You can't help who you fall in love with," she adds, while Joyce repeats, "I failed, I failed, I failed, I failed, I failed."
The preview then claims there were "people who didn't want this baby to be born".
"Political pressure… they said if you don't, they're going to come after you," Campion says, while Joyce adds, "… [and] they did".
The former deputy prime minister has received substantial criticism in recent days for selling his story to Channel 7 for $150,000, after demanding "private matters remain private" just months ago.
Joyce, however, told The Australian it was actually Campion who agreed to be paid for the interview.
"Remember there are other people in this interview, being Vikki and Seb, so if it was just an interview with me as a politician, sure, I am not going to charge for that," he said.
"But that is not what they wanted. They wanted an interview obviously to get Vikki's side of the story and like most mothers she said, 'Seeing as I am being screwed over and there are drones and everything over my house in the last fortnight, paparazzi waiting for me, if everybody else is making money then [I am] going to make money out of it'."
The interview airs this Sunday June 3 at 8.30pm.
Mamamia is funding 100 girls in school, every day.
So just by spending time with Mamamia, you're helping educate girls, which is the best tool to lift them out of poverty.
Thanks for helping!