SHHHH please.
Some of us want to see what $150,000 worth of interview looks like and we very much need to concentrate.
The ex-deputy prime minister Barnaby Joyce and his former media adviser Vikki Campion are here to tell us about the time they had an affair and then a lil' Sebastian.
When news of the Sunday Night interview broke, not for one single moment did we believe we were above this. We knew where we'd be at 8:30pm on Sunday night, and were sure we had snacks in anticipation.
Ahem.
Our first thoughts regard the excessive exposed brick in Campion and Barnaby's home and, look, we're not… fans. It's a bit much and frankly it's dated and no this interview is not bringing out the best in any of us. 
Anywho, we're shown a little teaser for what's to come and Barnaby has decided it's a good time to blame his six-week-old baby who doesn't even know what his own name is for this whole mess.
Barnaby says that sometimes he looks down into lil' Sebastian's face, with his blue eyes and entirely innocent soul, and thinks, "Boy, man, you've caused some problems." He then cackles like a maniac and no. 
Sebastian isn't responsible for shit. All Sebastian did was get conceived, and now he sleeps and poops and cries.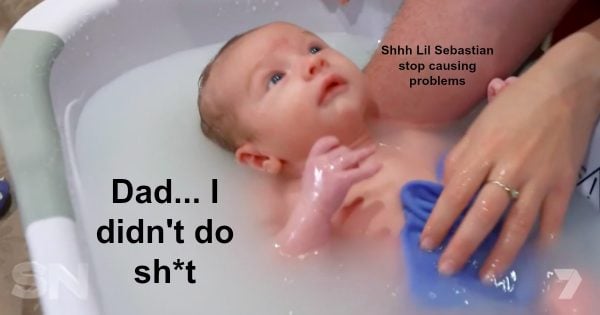 And on Sunday night he was being bathed on national television which he is clearly feeling very uncomfortable about.
It's probably six minutes in when we see a clear shot of lil' Sebastian's testicles from behind, at which point we're forced to ask, "Haven't you put this boy through enough?"
Vikki laughs that Barnaby is "surprisingly good at changing a nappy," which really shouldn't be all that surprising given that he already has four children.