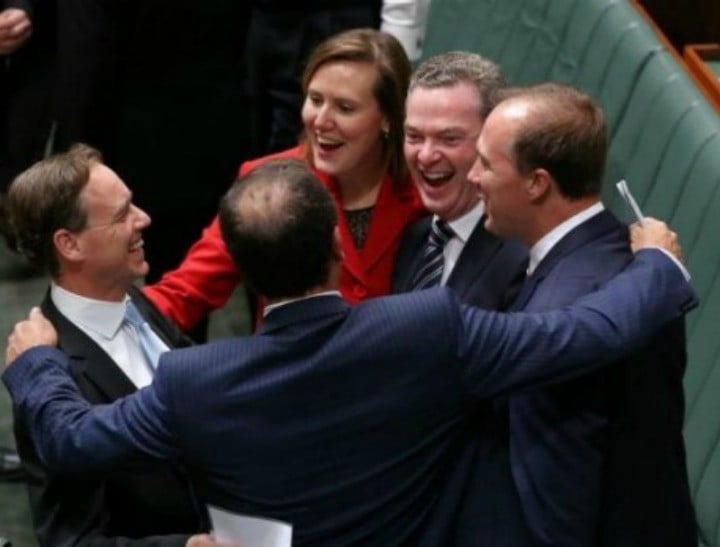 "The world has gone mad."
The man who once threatened to murder Johnny Depp's dogs, aka Agriculture Minister Barnaby Joyce, has declared the world has finally gone completely bonkers. And you know what? I'm inclined to agree with him.
Yes, Joyce thinks his own government has gone TOO FAR, by approving the Shenhua Watermark coal mine in his NSW electorate.
At 4084 hectares, the mine will be bigger than the evil controversial Maules Creek mine, which is currently the largest under construction in Australia.
It will actually be BIGGER than the City of Sydney (And the City of Melbourne).
Can't picture it? One Twitter user has created this handy graphic to help you:
Joyce is apparently furious with Environment Minister Greg Hunt for approving the $1.2 billion project and said he has done everything in his power to stop the mine.
"I've never supported the Shenhua mine," he posted on his Facebook page on Wednesday.
"I think it is ridiculous that you would have a major mine in the midst of Australia's best agricultural land.
"I think the world has gone mad when apparently you cannot build a house at Moore Creek because of White Box grassy woodlands but you can build a super mine in the middle of the Breeza plains."
The mine won't be in Melbourne or Sydney, it will be located smack bang in the middle of some of Australia's most productive farmland sucking up to 10 million tonnes of coal from the earth every year, for, potentially, the next THIRTY YEARS.
Remember when Treasurer Joe Hockey said wind farms were an "utterly offensive" blight on the landscape? THIS IS WHAT A FUCKING COAL MINE LOOKS LIKE:
Greg Hunt has sought to reassure concerned members of the public, claiming that Shenua — the Chinese mining company licensed for the project — will be subject to "18 of the strictest conditions in Australian history", thus protecting water supplies to the, at present, highly fertile black soil plains the area is famous for.
Worst. Environment. Minister. Ever.