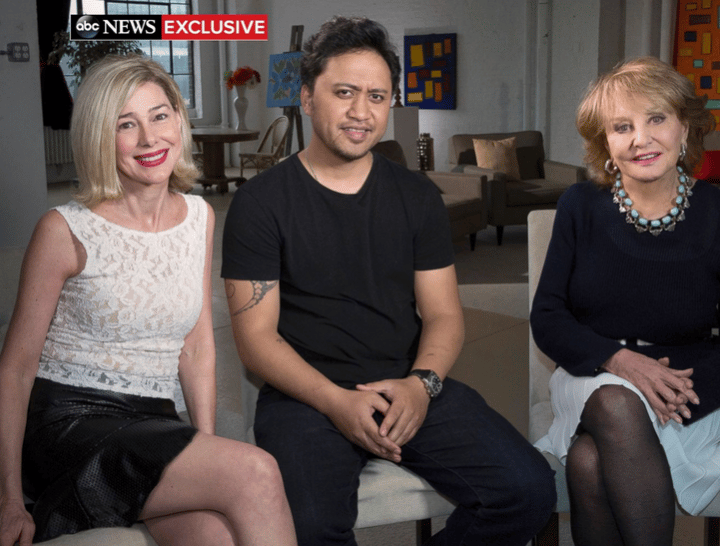 To 'celebrate' their 10-year wedding anniversay, Barbara Walters has done a sit-down interview with convicted statutory rapist and child sex offender Mary Kay Letourneau and her victim, husband and former student Vili Fualaau.
Warning: This post features details of child sexual abuse that could be triggering for some readers.
Most of us remember the story. Back in 1997, 35-year-old Seattle school teacher Mary Kay Letourneau was sent to prison for seven and a half years for the statutory rape of her 12-year-old student, Vili Fualaau.
Letourneau had known Fualaau since he was in Year Two, began seducing him when he was 12, and sexually abused and raped him for the first time not long after.
After becoming pregnant with Fualaau's child, Letourneau was initially convicted of the second degree rape of a minor (statutory rape) and sentenced to seven months in prison, provided she agreed to cut off all contact with the victim she had been abusing. Yet just one month after her release from jail, Letourneau was caught sexually abusing Fualaau in her car. Having violated her parole, Letourneau was sent to prison for seven and a half years – but she was already pregnant with her victim's second child, and gave birth to the daughter while incarcerated.
Read more: "The hardest part wasn't my brother's abuse… It's that it was covered up."
Upon her release in 2004, Fualaau, who had been struggling with depression and alcoholism since his abuse, requested that the no-contact order be revoked, so that he could conintue a relationship with the woman who had seduced and repeatedly raped him, the first time as a 12-year-old. The two married in 2005, and have been together ever since.
And now Barbara Walters has done a sit-down interview with the pair, to discuss, among other things, 'how they make their marriage work in spite of their age difference'.
Because what better way to celebrate the 10-year wedding anniversay of a child rapist and her victim than with a glossy sit-down interview?