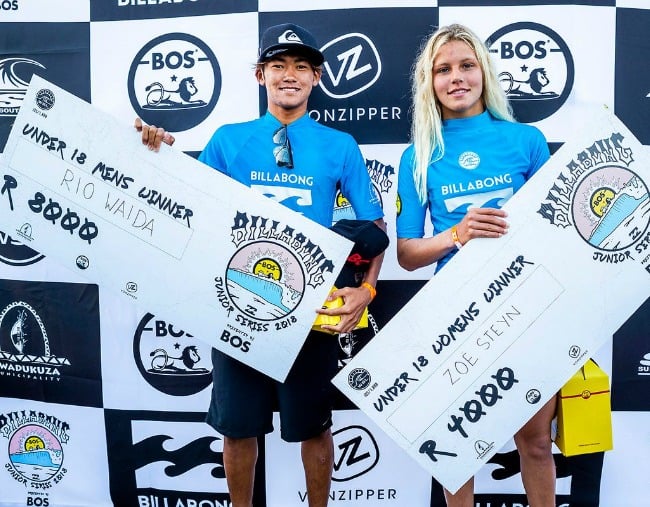 Billabong-sponsored surfing competition Ballito Pro shared a photo of their junior boy and girl champions this week  – and it didn't take long for Twitter users to notice one big problem.
"Rio Waida and Zoe Steyn Take Titles at Billabong Junior Series" https://t.co/GdLn7etanO#BillabongJNR #TheBallitoPro pic.twitter.com/SEK6cnfalq

— The Ballito Pro (@TheBallitoPro) June 24, 2018
Smiles are fixed on boys winner Rio Waida and girls champion Zoë Steyn's faces, but the prize money cheques they are holding have outraged many. Because while Rio has taken home 8000 South African rand (AUD$786) for riding waves, Zoe was awarded ZAR4000 (AUD$393).
Yes, they literally gave a female competitor half of what they gave a male sportsman for the same effort.
Luke Hilakari, Victorian Trades Hall Council Secretary, was one of the first to notice the glaring, they-can't-be-serious discrepancy in the prizes for the winners of the South African surf comp.
Spot the difference. Are women's waves half as high?? @billabong1973 pic.twitter.com/8Jq5mYlxFF

— Luke Hilakari (@lhilakari) June 26, 2018
And it wasn't long before dozens of other surfing fans and social media users shared their disgust.
SHAME ON YOU @billabong1973 Lift your game & equalise the Money ???? Bad Look really really BAD LOOK

— Maggie Bird (@Magpie1954nBird) June 27, 2018
Seriously? I'd be embarrassed sharing this photo. Half the prize money for winning the same competition? Sies! @5FM #billabongjnr #theballitopro

— Paul Nicolson (@PaulNicolsonZA) June 26, 2018
What fresh #sexist #inequality bullshit is this, @TheBallitoPro?! You all ought to be ashamed of yourselves.#BillabongJNR #TheBallitoPro @billabong1973 @billabongwomens @BillabongSA @5FM @VonZipper https://t.co/rEOOgbFM19

— Dr Claire Lee ????️‍???? (@Claire_Lee) June 26, 2018
Unfortunately, significant differences in men's and women's prize money in surfing is pretty much the standard. Notably, if you take out the World Surf League Championship Tour as a woman you'll bag US$60,000 (AUD$81,765), but if you're a man it will be US$100,000 (AUD$136,275).
So what exactly did the World Surf League (which Ballito Pro's organisers said determines all the prize money) have to say about the wage gap?
WSL Australia-Oceania regional manager Will Hayden-Smith told Triple J's Hack that the difference was due to the number of competitors in each competition.
"Men get double the prize money only because there are double the competitors," Hayden-Smith said.
He explained that the prize is based on a prize-money-per-surfer calculation and there were exactly double (36 to 18) competitors in this competition.
However, when asked if the seemingly sexist disparity couldn't be fixed by simply raising the number of female competitors or changing the way prizes are determined, Hayden-Smith wasn't prepared to budge.
He said there just wasn't the demand to increase the number of female competitors, with the waiting list at around four surfers, compared to 40 for the men's.
"If the demand was there on the women's side we would expand the draws."
Yep. It's an all-too-familiar argument from someone who clearly doesn't understand or believe in the concept of equal work for equal pay.
What do you think? Could they maybe just change the way they calculate the prize money?