On a scale of one to 10 how fashun are you? Your answer to that question will depend exactly on your opinion of this shirt by high-end fashion brand (read: very, very expensive) Balenciaga.
The 'T-Shirt Shirt' is a part of the brand's Fall 2018 Men's collection and is literally a blue t-shirt with what looks like a button up, blue checkered, long-sleeve shirt stitched onto the front.
From the back it looks like your regular, old blue t shirt, but from the front you look like well… a person that's just paid $1950 AUD for a very DIY-able eyebrow-raising t-shirt.
You'll basically just look like a tool.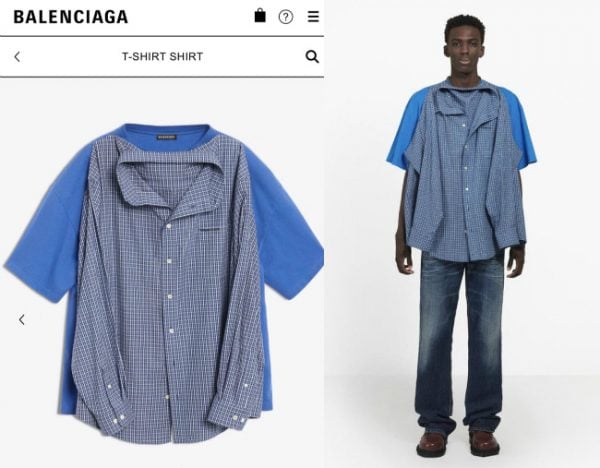 As you might have guessed, social media is absolutely baffled, with many Twitter users sharing their disbelief.
Some fashion styles are interesting, practical, or plain weird but some like belows #Balenciaga is just dumb....and for that price Hell No! pic.twitter.com/q8XGTDbo9H

— Rylei Massie (@JivingwithRylei) May 29, 2018
whoever is the designer for balenciaga has to leave... pic.twitter.com/XhvMxVzwov

— ♡ (@electrawaves) May 27, 2018
I'll slap anyone who even tries to tell me that this is dope, Balenciaga clearly doesn't care ???? pic.twitter.com/tLIZKffsHS

— Denzel???? (@Mr_Nzeu) May 27, 2018
When the dresscode says smart casual so you turn up with your shirt sewn onto your T-shirt #Balenciaga pic.twitter.com/Gu0uSgTsIZ

— S a M (@sammwmc) May 28, 2018
Whoever wears balenciaga at this point is just taking the piss https://t.co/m95aM8iS8c

— saba (@sjangizi) May 29, 2018
Twitter user AH_Mike even DIY-ed his own version.
Hey @BALENCIAGA,

I just made my own Double Shirt and it didn't cost thousands of dollars! pic.twitter.com/8daWqAGy7C

— Mike (@AH_Mike) May 28, 2018
This isn't the first time Balenciaga has trolled (in our humble opinion) their customers with their outlandish designs.
Some previous designs from the Spanish luxury house includes a blue tote that looked suspiciously like an Ikea bag, as well as pink, embellished platform crocs ($1075) that have adorned the feet of our very own Roxy Jacenko.
Oh, and we mustn't forget the... blanket bag and... car mat skirt... that were once the height of fashun.
Fashion will kill us... ????????????
I will just carry my duvet bag

"Balenciaga's oversized tote is inspired by classic blanket bags."
£2,325!!! pic.twitter.com/6pTsICd5Yk

— Naomi Mutua ???????? (@AKenyanGirl) March 22, 2017
Winter is coming: change your car's tires, mats, windshield fluid etc. #safety [And on a fun/disturbing note, new fall skirts from @BALENCIAGA appear to be treating women as 'doormats'!! Literally. #heforshe] pic.twitter.com/1WrujzwU3m

— Hayman Buwan ⚕️ (@realHayman) October 26, 2017
Balenciaga, we don't know what you're playing at, but we appreciate the meme-worthiness of your collections nonetheless.
What do you think of the infamous T-Shirt Shirt? Tell us in a comment, we need to know!