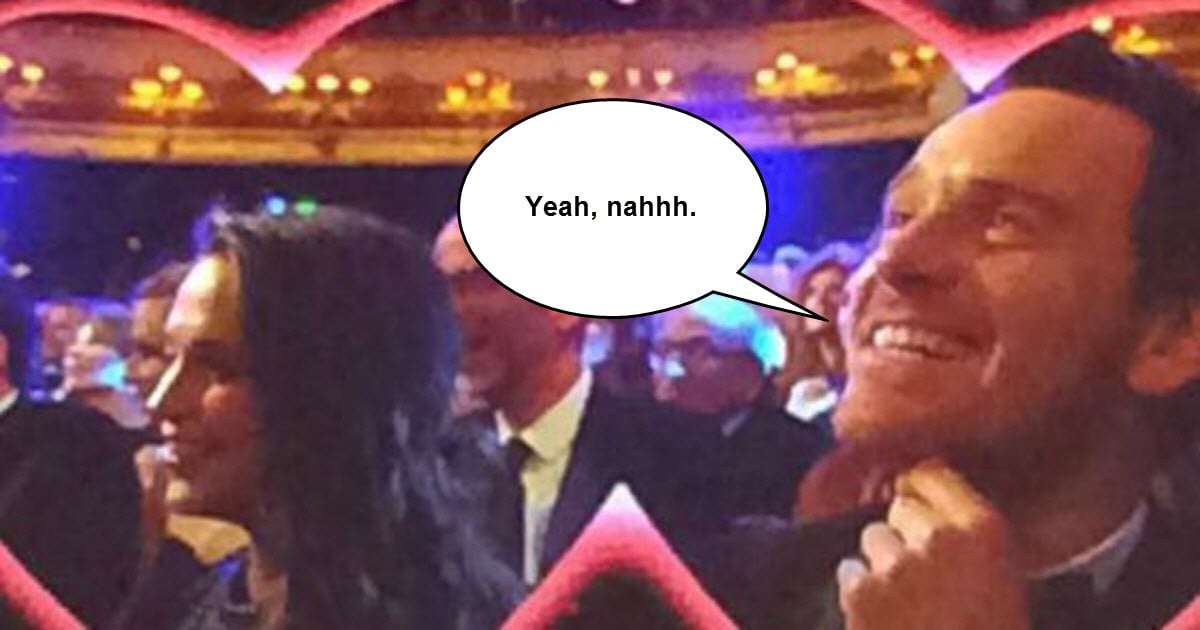 It was enveloped in a giant heart that BAFTAs host Stephen Fry announced that the awards show would be appropriating one of America's most awkward romantic traditions: the Kiss Cam.
Because nothing has the power to make or break a fledgling relationship by being forced to pash on in front of a stadium full of strangers or, in this instance, a stadium full of highly-respected entertainers.
Fry's first victims were rumoured real-life couple Michael Fassbender and Alicia Vikander — and they were having none of it.
It was a bit like when you get your Year 7 crush in a game of spin the bottle… You secretly know you want to, but you're not quite ready to admit it to the room.
Apparently, Fassbender's refusal was so mega-awks. It didn't even make it into the BBC's final broadcast. Alas.
Fortunately, Cuba Gooding Jr. and Stanley Tucci were there to show them how it's done, enjoying a kiss on the cheek and one on the head, respectively.
Dame Maggie Smith and Leonardo DiCaprio also kept it very sweet and English with a respectful peck.
Proving their acting chops, Julianne Moore and Bryan Cranston went full stage kiss — there's a reason these people are at the BAFTAs to be quite honest.
And then there was Rebel Wilson, who sucked face with Eddie Izzard in one of the hottest exchanges likely to have ever graced British television.
You can watch it all here: