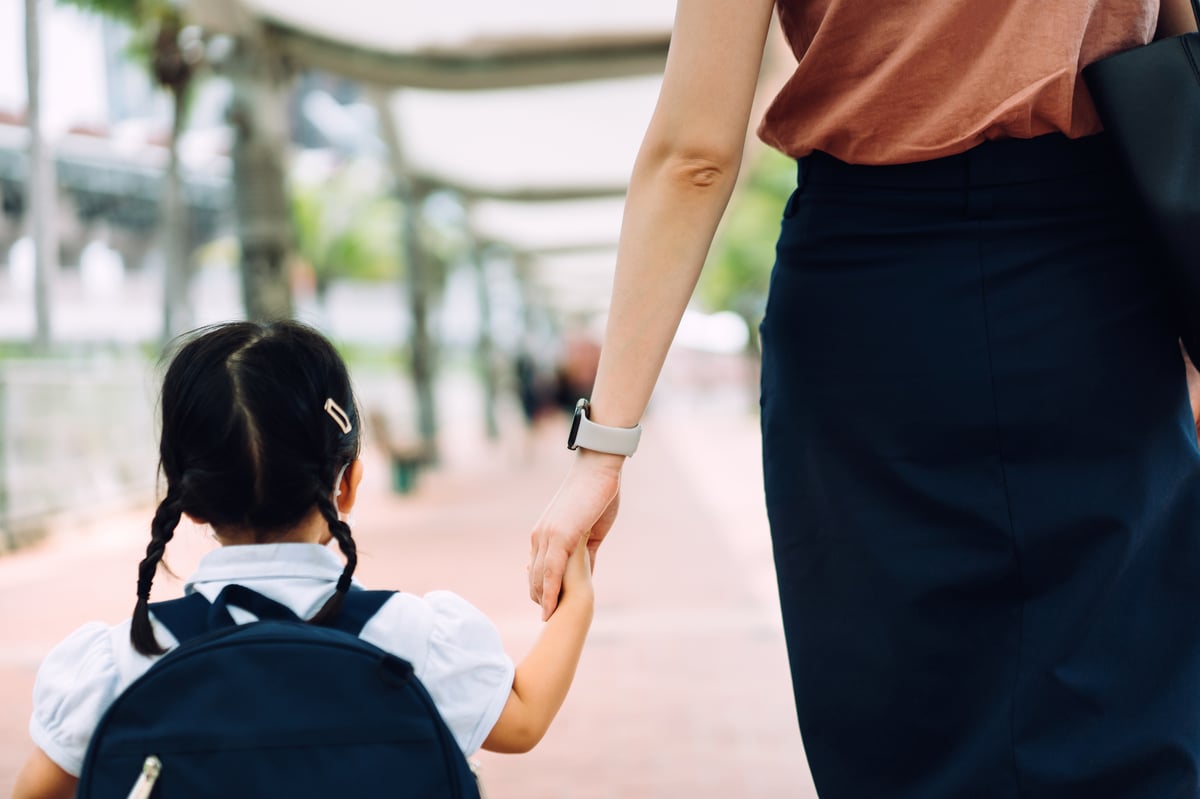 It's normally kids who dread the start of a new school year, but this time, quite a few parents have knots of worry in their stomach as the first day gets closer. 
While some just can't wait to get their children inside the school gates, others have concerns. State governments have been announcing their back-to-school plans, but those plans have raised as many questions as they have answers. 
Watch 5 Types of Parents at School Pickup. Post continues after video.
I know I have questions. Are schoolkids going to wear masks properly when so many adults wear them under their noses? Will other people's children actually do the rapid antigen tests – and what about those false negatives?
How much protection does a kid get from just one dose of vaccine?
After two years of upheaval caused by COVID, I want my children to be able to focus on learning this year, without disruption. But is it realistic to hope for that when we're living with COVID?
Here, 12 parents share how they're feeling about the return to school. 
"I am immune compromised and am scared."
"I am immune compromised and am scared of my two children getting COVID and bringing it home. We are all as vaxxed as current policies allow (kids have their first shot). I wish there was an option for learning from home from their school but understand that requires extra resources. They have a good school community so wouldn't like to withdraw them to homeschool and take them away from that. I am very grateful we are in Queensland with a two-week delay but wish it was a four-week delay. I am dreading the return to school."
"I'm not worried."
"I'm not worried. We're better prepared than when we sent them back in Term 4 last year in NSW. All teachers should have been boosted and most kids could have had their first shot by next week. Plus RATs are being sent to schools. I'm keen to move forward."
"Nervous. Confused. Overwhelmed."
"Nervous. Confused. Overwhelmed. I trust, though, that schools will be doing the best they can to keep the kids and teachers well. We are in SA so have a phased return. My children will be Year 1 and Year 4. I have bought masks for them both and we've been practising wearing them so they are used to them. While I'm nervous about the COVID situation, I'm also nervous for the social and academic future of my kids if face-to-face learning continues to be disrupted as it has been over the last two years."
"I feel somewhat 'relaxed'."
"As a mum, I feel somewhat 'relaxed', as hopefully most of the children have now been vaccinated. As a preschool teacher, I am terrified. We are in an old building with poor ventilation, none of the children will be vaccinated, and I envisage many weeks at home, and so help me, if I have to try to 'teach' preschoolers online again, I think I will break. My classroom will be predominantly outside and I see lots of walks and neighbourhood explorations on the plan! It will be okay."