The tension between Rhys and Sam on this season of The Bachelorette is probably my favourite thing. Like, generally. In life. It's the best thing that ever happened.
CLICK HERE TO CATCH UP ON ALL THE TWINS' BACHELORETTE RECAPS.
It was just so funny. And relentless. And stupid. Literally every time Rhys said anything, we could count on Sam to a) make fun of it, b) do an unflatting impersonation, or c) call him a pretzel. Sam also egged Rhys on to do embarrassing things. Like reading poems, and showing off sub-par dance moves.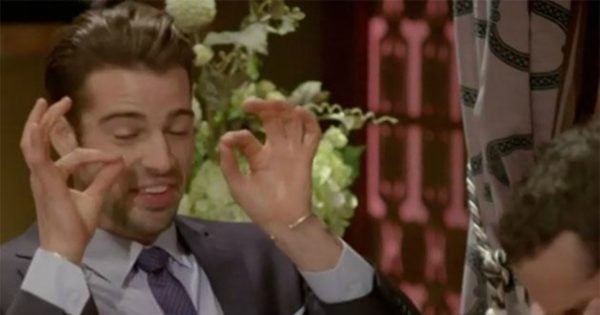 As it turns out, The Bachelorette mansion was divided into Team Rhys and Team Sam. And when we asked the most recently eliminated contestant, Clancy, whose team he was on, we got a particularly fascinating answer:
"No one was Team Rhys."
Oh.
"It was Team Sam everyone, and Team Rhys was just one person and it was him."
Maybe it was the poems?