Tonight we begin with a rehashing of last week's events, and you would be forgiven for having NO GODDAMN IDEA what show you're watching anymore.
More than a minute and a half in, there has been absolutely no mention of Georgia Love, who even changed her surname for this ridiculous enterprise.
The focus is mainly on the tension between Sam and Rhys, which, to be completely honest, is the most interesting thing that's ever happened in either of our lives. It's just…relentless. It's like…it's like Shark Tank, except they're selling themselves, and they genuinely don't care if anyone bids. WHAT IS GOING ON? WERE THEY NOT PROPERLY BRIEFED?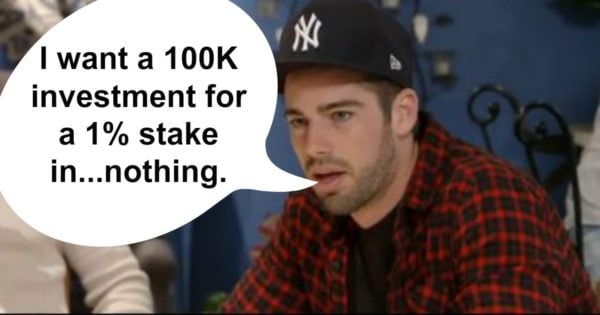 Anywho, enough with our ramblings, because the mens be speaking. They're clearly waiting around for Osher to arrive with a date card when someone asks Sam if he's frustrated. For context, Sam is one of the only dudes who hasn't had a single date. "No, why would I be frustrated?" he asks, genuinely perplexed. Guys he doesn't know he's on a dating show and someone should tell him because he will be sad when he doesn't win the prize money. 
Under his breath we swear we hear him say, "Eugh. Who is Georgia anyway and why is she always here..."
Osher arrives, and his behaviour is disconcertingly normal for a moment. That's until he waves and his hand is way too high, looking more like a stop sign than a hello greeting. Osher, please.