From the beginning, Georgia Love's quest to find true love with 16 strangers on national television felt fundamentally different to previous seasons of The Bachelorette and The Bachelor. 
It started at the very first cocktail party, when Rhys and Aaron (remember him? Me neither) insisted on both talking to Georgia at the same time.
They then proceeded to just speak about themselves, and how friendly they'd become from like five minutes of knowing each other.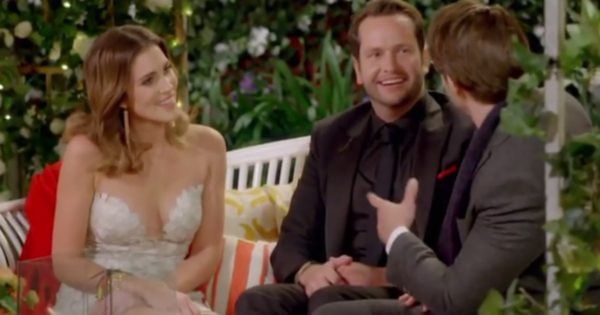 It was...bizarre.
They had just arrived. And the whole point of this godforsaken show is to spend time with Georgia and develop a connection with her. Instead, these guys were more excited about building male friendships.
Then Courtney got the first impression rose, meaning he got the opportunity to plan a single date AND a group date for Georgia. But he took his sweet time.
He waited until she prompted him, and then took her scurfing, because it was one of his favourite things to do.
Listen to Bach Chat, the podcast where we discuss all things Bachelorette. Post continues after audio.
On the group date, he took everyone billy carting, and chose Georgia to be on his team only because she was the smallest, and it was a good strategic decision.
When he had the chance to choose who she got to spend extra time with at the end (with the option of himself), he chose some guy named Tommy.