If you watched last night's episode of The Bachelorette, you're probably thinking a lot about the seemingly sweet, allergy-bracelet making bachelor, Courtney Dober.
Oh how we swooned at his background in childcare and pasta-shell skills. We felt the chemistry when he took Georgia on a special scurfing date, after she gave him the sought-after orange rose for making the best first impression.
So you can only imagine our surprise when we discovered his talents extend much further than we were initially told.
It turns out Courtney is probably the most legitimate actor slash model slash entrepreneur slash CHANNEL 10 PRESENTER on the show. (And that's saying something).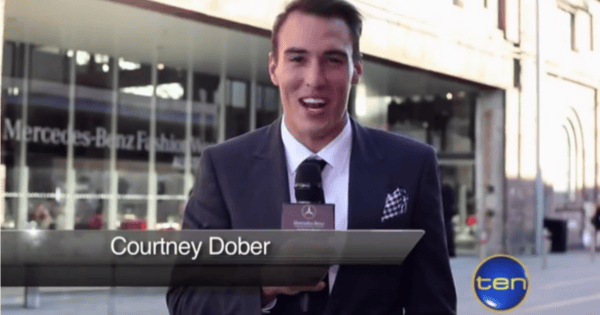 The 30-year-old industrial designer has an extensive history in the public eye and his Chic Talent Management profile really sells it.
"A popular presenter, Courtney has also hosted segments for the Nine Network's popular travel show Getaway, Fashion Asia for the ABC, Mercedes Benz Fashion Week Australia for ARENA (2012) and a one hour MBFW special for Network TEN (2013). Courtney also hosted Fashion Festival for the Seven Network, the Rugby World Cup for QANTAS in 2011, and the FIFA World Cup in South Africa for SBS (2010)."
ABC, Channel Nine, Channel Ten, Network Seven and SBS. The biggest shock is that none of us recognised him.
Courtney is still very much a real contender for Georgia Love's heart, despite his questionable behaviour last night, so we'll give him this advice: don't sell yourself short, mate.