Ugh.
Osher got nervous because of the sheer amount of masculine energy in the mansion at the moment so he threw the date card at a stranger. 
The single date goes to Luke. We like Luke. Mostly, if not exclusively, because of his face, given that we're quite sure we haven't heard him say a word yet. Which is fine.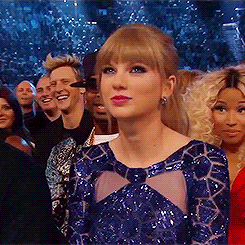 But, pause.
Sam is annoyed he hasn't been asked on a date yet, because his double delight rose ENTITLES him to no less than TWO (which is more than one) dates with Sophie. HE WON SOPHIE AND HE HASN'T RECEIVED HIS PRIZE YET PLS.
"Why is it taking so long?" he grunts, as though he's forgotten about the time less than a week ago when he had five minutes with Sophie on a photo shoot and spoke exclusively about her boobies. And when she asked him to please stop, he didn't and then used the word 'cans,' which offended Sophie and also our new favourite James. So, yeah. She probs hasn't asked him on a date yet because she doesn't really want to go on a date with him.  ¯\_(ツ)_/¯
Sophie, the woman who just a week a week ago said she doesn't "care about looks" tells the camera, "I think it's obvious why I invited Luke today..."
"Because he's HOT ha ha."
Omg so true.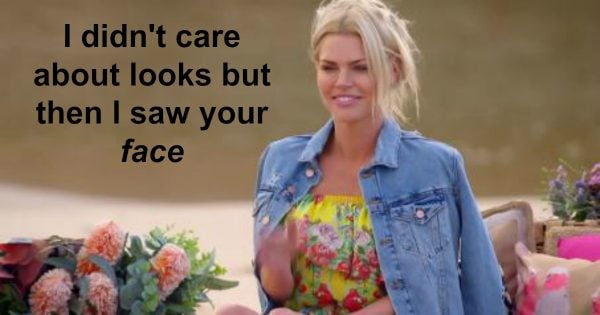 Their date begins with sandcastles set up on the beach with questions inside them that 'Sophie' set up, like when 'Sophie' means a 'slave' from Channel 10.
The first question is "What age did you lose your virginity?" and it becomes clear that, wow, Sophie really did write these questions herself. They learn more about each other, and Luke reveals that his most annoying habit is biting his nails - which is, um, literally our least annoying habit.
Sophie makes the shock confession that she f*cking swears too f*cking much and her dad thinks she should ease up. She says swearing "helps the sentence," and seriously this woman needs to write a book she is so f*cking wise.
Following the sandcastle activity, Sophie tells the camera, "That's the best idea I've had in forever that game," and her genuine pride quickly turns to regret and shame when she remembers she agreed to learn to surf in a sumo suit on national television.
Issues with sumo surfing on a date but also sumo surfing in general include but are not limited to:
Everything
Hair/makeup/jewellery
Flippers
It doesn't appear to even be remotely fun
Drowning which can lead to death (and in turn, embarrassment)
Following the sumo surfing, Luke says "you did well," and we think she should not give him a rose on account of him being a liar.
Sophie and Luke then decide to sit down with a glass of wine, and talk about how they feel. Luke asks if she likes him yet and Sophie says to the camera, "I'm so awkward when I like someone, the body language is completely off..." and we're like what are you talking abo...
Oh.
She starts eating too many crackers. Like.. three in her mouth all at once. Then she pulls unusual faces and refuses to make eye contact with Luke and stares into the distance as though she's having a vision. Then she kisses him a little bit on the chin. Then she keeps saying 'yeeeah' to the point where Luke has to ask, "Are you good?"
SOPHIE GOES FROM BEING A 37-YEAR-OLD INDEPENDENT WOMAN TO A 12-YEAR-OLD BOY ABOUT TO DO A SPEECH ON ANCIENT EGYPT.
If she was analysed by a body language expert, she would break them.
Eventually she mutters something that is not words, and they kiss. It's all very romantic.
IT'S GROUP DATE TIME and where's James. This is not fun without him.
The boiz are being driven to an undisclosed location by their drivers, but excuse us, there is a catch.
It is Sophie's parents who are driving the cars, and they be doin' some judgin'.
In the car with Sophie's dad, Sam starts talking about how he doesn't think relationships should start as a friendship, "because when I meet someone I want it to be like a volcano," and just in case you weren't sure, he clarifies he means that in a "rude sense".
Okay.
STOP. Osher's back.
He's been planning an activity for all this time and it is obviously scribble art.
The men have to draw the trees around them and then the art teacher will analyse their work and tell them what it means about their relationship with Sophie.
If that doesn't makes sense to you, it's probably because it doesn't make sense to anyone.
Because the teacher isn't actually an expert in scribble art (WHAT? HOW), she's actually Sophie's sister. And she's also here to do some judgin'.
Everyone's drawings are very bad and like half of them are colour blind which is... inconvenient.
When they're all finished, Osher rounds them up and he cannot wait to tell them how he got them so good. He is wringing his hands and smiling with too much teeth.
"THE DRIVERS WEREN'T TOMMY AND GALE. THEY'RE ANDREW AND SANDY, SOPHIE'S PARENTS," he yells and everyone has to pretend as though it was the best prank ever.
Sam is very scared because he spent the whole trip talking about volcanoes but it was a metaphor for sex. 
They they find out the art teacher was actually Sophie's sister (she wasn't a scribble art expert?? WUUUT?) , who was picking a date for Sophie. Ryan wins and honestly that's a better prank than what Osher's (sorry).
Sophie and Ryan get to know each other a little better which was a bad idea.
"I love somebody who looks after herself really well..." Ryan explains, and Sophie asks, "like physically... so you like... a hot girl?" and yes that is precisely what he means.
Ryan also wants a girl who is "respectful, I don't like a woman who swears or has a potty mouth. I get it here and there... but..."
Oh.
Sophie mouths 'f*ck' to the camera because this is f*cking awkward.
End date.
It's cocktail party time and Jarrod needs to be sedated.
"I WANT TO KNOW WHERE SHE WANTS TO BE IN FIVE YEARS. WHERE SHE WANTS TO BE IN 50 YEARS," he says to the camera and Jesus Christ.
Sam says, "we're creeped out by him, to be honest," which is fair, but also... ironic.
Sam decides to have a chat with Sophie, mostly because he would like his prize now.
They discuss how great the first night was then Sophie says, "yeah, then you started talking about my cans on the photo shoot, remember that?"
OH GURL.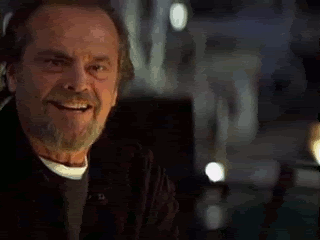 "You're like... look at her cans... you're meant to be winning my affection," she says and excuse us this is the best thing that has ever happened.
"I was like ahhh don't be that guy," Sophie continues and YES SO WERE WE. "It made me feel a bit like you don't really know me and like that's how you treat all women."
Sam apologises and this is nothing short of a feminist victory for women everywhere.
Meanwhile, Jarrod has trapped a man known only as 'Bingham' (what is a... Bingham?) in a circular conversation about how Sophie better not like Sam because he's 34 (?) and has facial hair (?).
No one has ever engaged less in a conversation than Bingham. Mostly because he doesn't even care a little bit.
It's rose ceremony time and THREE WHOLE PEOPLE are going home tonight.
We think that's shocking until Sophie sends home two men we've never met, and also Jefferson who we swear came in a day late and then complimented Sophie on her scent. We will miss Jefferson.
UNTIL TOMORROW NIGHT.
You can follow Clare and Jessie on Facebook, here.