Warning: post contains nudity and is NSFW. 
Megan Marx and Tiffany Scanlon are close. We know this. They hang out. They eat together. They go to beach together. They compete against other women for Richies together (or at least they did that one time).
But just lately, it seems The Bachelor's best buds have gotten especially comfortable with each other, so comfortable in fact that they no longer feel the need to wear clothing.
Last night, the former contestants shared yet another snap sans threads on Instagram, gushing about their tight.as.f**k bond in their respective captions.
"Find someone who makes your wierd [sic] feel normal," Tiffany, 28, wrote, following up with "#beingwierdtogether #whatisnormal #artisticnude #sunsetporn #instapropriate #naked #freethenipple #classy"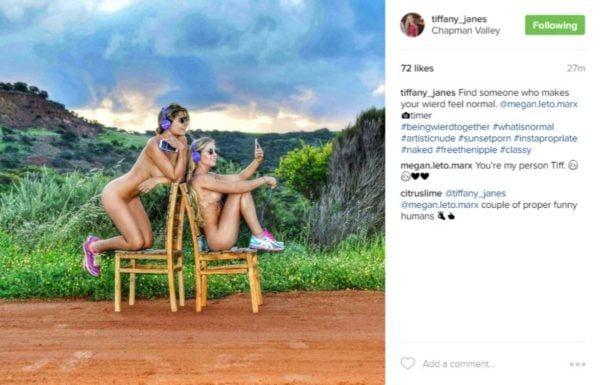 Megan was even more doting: "There are some people in the world who see beauty in the ocean in both storm and waveless calm. Sometimes you find people that can see you the very same way."
Damn, Megs. That was poetic. Someone should hook you up with Hallmark.
It remains unclear precisely why the loved-up friends are suddenly getting their gear off on social media. And it's certainly left a number of their fans scratching their scalps: "why naked?", asked one admirably succinct commenter on this post Tiffany shared on Tuesday.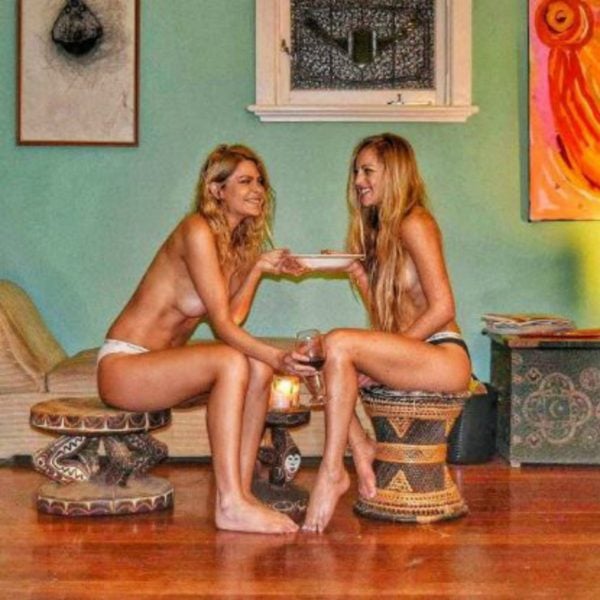 Image via Instagram: Megan Marx.
Well, spaghetti and red wine could get messy, so there's that. But we're not quite sure why bare skin is ideal for sitting on a wooden chair, on a dirt road, in the bush, listening to music.
We'll give them a buzz and see if we can find out.
In the meantime, why not get the latest episode of Bach Chat in your ears? It's the best podcast for all things Bachie.