Attention Bachelor fans, we have good news.
Let us all join hands and sing kumbaya because Tara Pavlovic has confirmed that her and Sam Cochrane have not split up.
It's also the second-last day of a four-day work week (sorry Western Australia) so everything is coming up roses. Very good.
Her statement comes after this morning's confusion over the relationship status of the Bachelor in Paradise pair. Fans feared the couple were on rocky terms after they noticed Sam, 31, and Tara, 28, had hadn't posted together since June 3 and they stopped following each other on Instagram. Tara's Instagram was flooded with comments from concerned fans.
Following this, both parties re-followed each other… and then… well… then we were just confused.
The couple did not respond to Mamamia's requests for comment but now, Tara has personally confirmed everything is 100 per cent peachy and love is not dead.
"Woke up this morning to reports Sam and I are over. [side note: we might have had a part to play in that… call us passionate.] But I woke up next to him… weird," she shared in an Instagram story of her and Sam in bed, flashing a shot of her engagement ring in the process.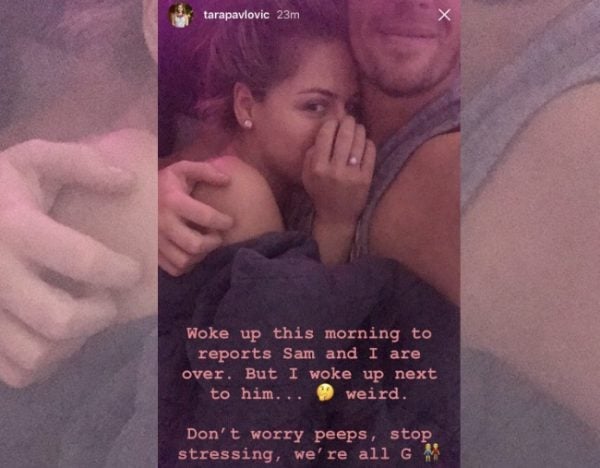 "Don't worry peeps, stop stressing, we're all G," she wrote.
Sam also relieved fans by posting an adorable photo of his fiancee wearing a Chicago Bulls (Sam's favourite US basketball team) T-shirt even she's not a fan of the colour red - because if that's not love, then we don't know what is.
All in all this is pretty good news for a Thursday morning.
Onwards.