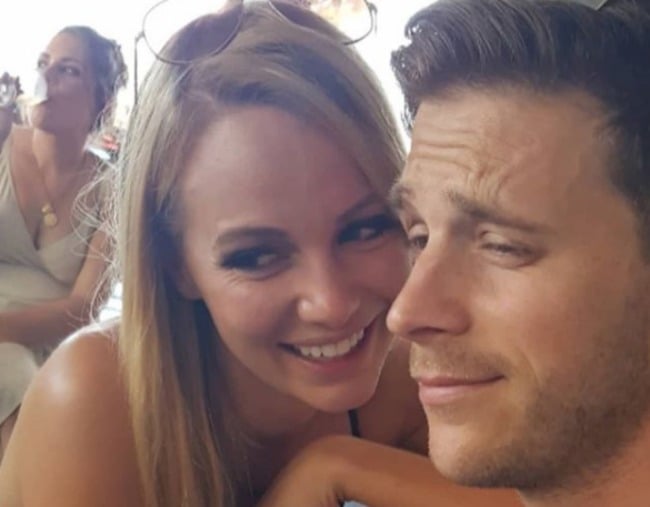 For all your Bachelor in Paradise Australia gossip in one convenient place, check out our Bachelor in Paradise 2018 hub.
A former Married at First Sight star just derailed our very important investigation into Leah's fiance.
Eugh.
You see, when Bachelor in Paradise's Leah Costa appeared on Studio Ten on Monday with a huge engagement ring on her left hand, while simultaneously refusing to name her fiancé, I knew it was my time to shine.
I've always wanted to be a real investigative journalist. But somehow, for reasons I only regret sometimes, my life consists of mostly following Bachelor in Paradise gossip. So here, I was presented with my dream: an investigative story about reality TV.
In the media, Leah dropped three clues:
He lives in Melbourne
He is famous/the public know him
He isn't from The Bachelor/The Bachelorette
Watch Leah dodge questions about her ring on Studio Ten. Post continues after audio.

I obviously carried out a three part investigation, which led approximately nowhere, and later in the evening, my colleague decided she knew for sure that Leah's real fiancé was this man, who a) we've never seen before, and b) in hindsight, is definitely not Leah's fiancé.
Then, on Tuesday morning, I spotted love in a very, very hopeless place: On the Instagram account of former Married at First Sight star Nick Furphy.
Nick got fake-married to Sharon Marsh on the reality show, while Sharon's twin sister Michelle got fake-married to Jesse Konstantinoff. And it appeared that Jesse, who, by the way, LIVES IN ADELAIDE, was Leah's secret fiancé.
In case you're wondering, yes, I'm angry.
Because one of Leah's clues was that her fiancé lived in Melbourne. This seems strange, given that less than two weeks ago, Jesse EXPLICITLY referenced living in Adelaide on Instagram.
But, surprisingly, you can't believe everything you see on Instagram.
Shortly after his co-star's post, Jesse shared a photo of he and Leah, and confirmed they are most definitely NOT engaged.
"Just to clarify some rumours that my fellow ex brother in law Nick Furphy and some tabloids have started, I am not dating or engaged to Leah Costa," he wrote. "Although we're not dating, Leah and I are and will remain really good friends."
GREAT.
Can Leah just… tell us already?
It turns out I'm not at all cut out to be an investigative journalist.
I find uncertainty… frustrating.
CORRECTION: An earlier version of this story suggested Jesse and Leah were really engaged.