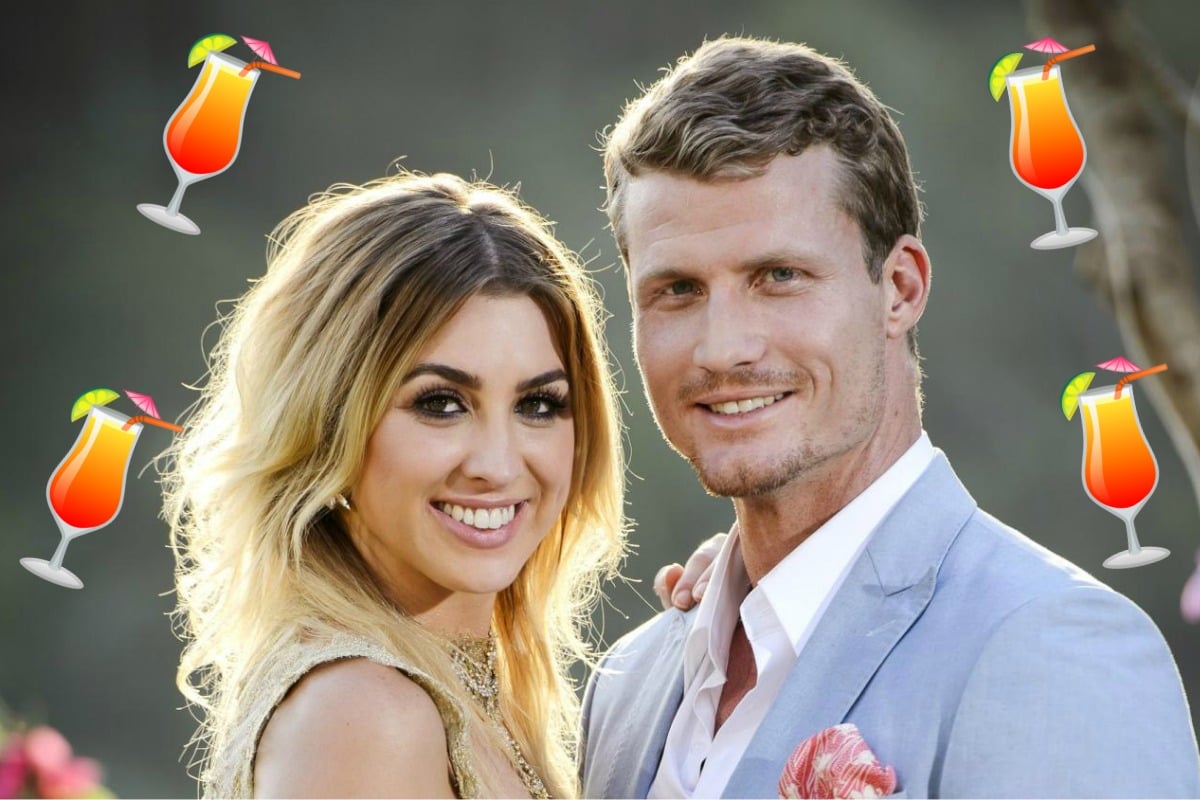 Well, well, well.
This be… interesting.
It seems bachie exes Richie Strahan and Alex Nation are about to be reunited on Bachelor in Paradise.
According to Woman's Day, both Richie and Alex have been photographed arriving in Fiji just as filming for the second season of the reality TV show is about to start.
The publication published photos of the bachie exes arriving separately at Nadi International Airport, along with other former contestants.
Clare and Jessie Stephens break down the latest episode of The Bachelorette on Bach Chat…
Yep, get out the mango daiquiris, there's definitely some drama on the way.
In case you missed it, here's a quick rundown of the Richie/Alex drama to date.
Mum-of-one Alex won Richie's heart in the 2016 cycle of The Bachelor, but after dating for over a year, the couple ended things.
They announced their break-up via a photoshoot in Woman's Day.
Since then, the Perth-based rope access technician has all but disappeared from the public eye. Alex, on the other hand, started dating a woman named Maegan Luxa, and it's believed they were engaged. The pair has since broken up.
So, they are both single and ready to mingle and also to create some poolside drama.
According to New Idea, producers wanted the former contestants on the first season of Bachelor in Paradise but the timing wasn't right. Richie was still "heartbroken" over Alex, and Alex's relationship with Maegan was apparently "in full swing".
But this is where things get awkward. Both contestants made the decision to return to the Bachelor franchise "totally independent of each other," and apparently that's exactly how Osher the producers wanted it.
"This was meant to have a big element of surprise attached to it," says the source, effectively ruining any chances of said surprise.
"Richie and Alex are not meant to know that the other person has been confirmed for the series. They were literally going to rock up for shooting and find each other on the set… you can only imagine how that was going to play out."
Also confirmed for the upcoming season are 2018 fan favourites Cass Wood and Brooke Blurton.
It's also been rumoured that Sam Cochrane could be returning to the series for a second time, after breaking up with Tara Pavlovic.
WE. CAN'T. BLOODY. WAIT.
Who would you like to see on Bachelor in Paradise in 2019? Tell us in a comment.