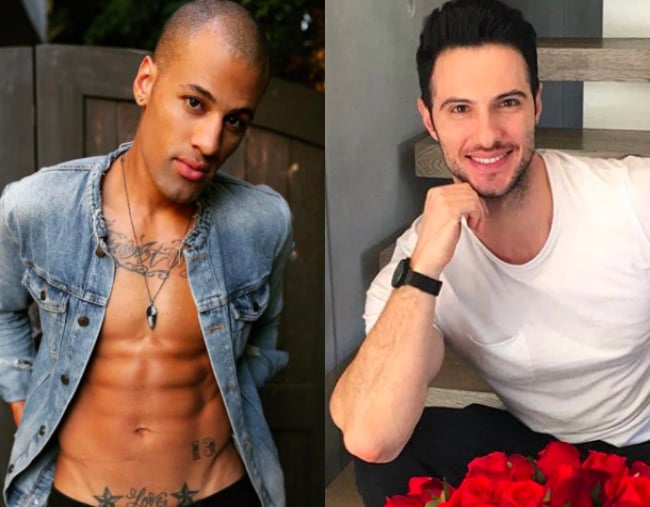 Excuse us but there are Bachelor in Paradise intruders here and we're consuming every skerrick of information about the contestants available.
Every season of The Bachelor and The Bachelorette has one or two toke contestants from overseas to mix things up. And our first season of BIP won't be any different.
So far, only two shiny new foreign exports have been announced – Grant Kemp and Daniel Maguire.
But what do we really know about these men? And are we ready to let strangers into our living rooms, figuratively speaking?
The answer is no, so we dove head first into the Hawaiian shirt-wearing and coconut-drinking trenches of Bachelor in Paradise to bring you everything you need to know about them.
Here's what we found.
Grant Kemp
A 29-year-old firefighter/intruder from San Francisco, California, Grant first appeared on The Bachelorette US season 12 in 2016 where he made it to week five.
Then later that year he packed his bags and went on season three of the US Bachelor In Paradise, which resulted in him proposing to fellow contestant Lace Morris.
Needless to say, that didn't work out.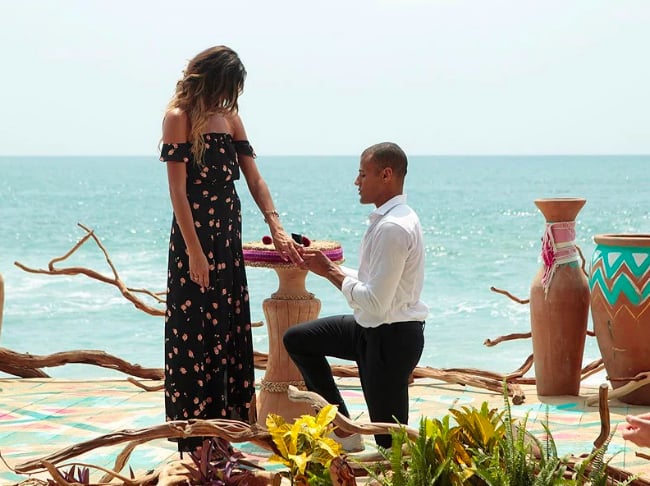 Grant's original ABC The Bachelorette profile reads, "I'm thoughtful, good at making people smile, and I make people feel appreciated."
It also says his favourite movies are Home Alone, The Bourne Identity and Ninja Turtles (the original one), and his worst first date was "getting lunch with a girl and listening to her talk about Harry Potter for 20 minutes."
To be honest that sounds really fun, but anyways.
According to - wait for it - Wikipedia, Grant and The Bachelor season four villain Keira Maguire will be spending some time together on the island. Make of that what you will.
Bachelor Sleuthing Spoilers (yes, this is a real thing) also shared images of Grant kicking a soccer ball around with The Bachelorette season three's Jarrod Woodgate.
Outside of his Bachelor life, Grant also dabbles as a male model. Because of course, any intruder was going to be a model.
Below are the best images from his Instagram feed for your impending judgement:
As for who he might end up with on the show, our picks are The Bachelor season two's Laurina Fleure or Lisa Hyde, and season five's Elora Murger.
Daniel Maguire
Daniel is what one would call a 'Bachelor fiend'.
The 31-year-old male model and personal trainer from British Columbia, Canada also made it to week four in the 12th season of The Bachelorette US in 2016.
He then appeared with Grant on the US Bachelor In Paradise seasons three AND four. Wonder why this guy is so unlucky in love?
Oh, that would be because, by all accounts, Daniel has a habit of referring to himself as 'the Eagle', and saying yucky things about women.
He also has been quoted saying he would never get a tattoo because "why slap a bumper sticker on a Lambo?"
Yeah.
Apparently, Daniel enjoys lakes, rivers, waterfalls, mountains, snow, eagles, helicopters and drones. It's an oddly specific list, no?
He also appears to like posting pictures of himself at the gym/shirtless. See a selection below:
So who will be enjoying Daniel's company on the island? Bachelor Sleuthing Spoilers posted an image of him in a canoe with The Bachelor season three's Nina Rolleston, but also maybe Keira or The Bachelor season four's Megan Marx could be good matches? Especially Keira considering she won't need to change her last name if they get married.
Regardless, he did tell the Daily Telegraph prior to going onto the show he found the Australian cast "boring" and "not as racy" as those on the American version of the show. Um, thanks?
"From what I could see, most people were just friends. There was no sexual chemistry or as many hook-ups as in the US," he said.
"To be honest a lot of these people are boring. Eden was funny, Tara has been alright, Michael has been good on TV. Keira knew how things were edited, she was cool, I had a laugh with her.
"But the rest was like watching paint dry."
Zara McDonald and Michelle Andrews recap all that is the glory of Bachelor in Paradise.