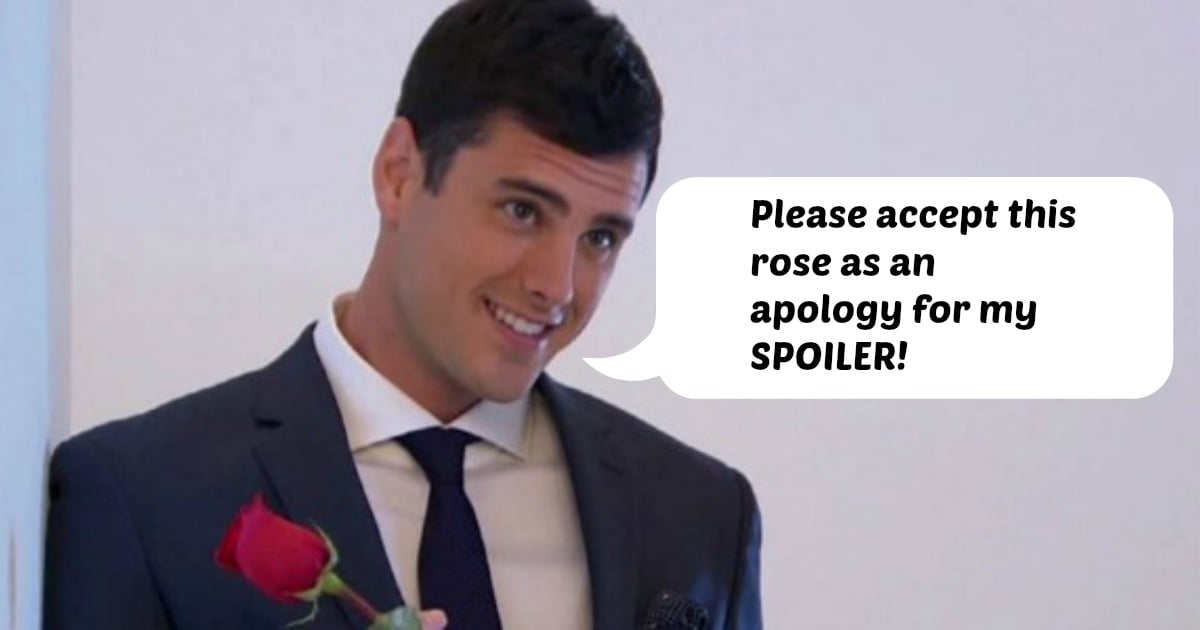 SPOILERRRRR.
SPOILER!
Spoiler.
Do.
Not.
Scroll.
If.
You.
Don't.
Want.
To.
Know.
The.
Winner.
Okay, can we continue?
US Bachelor Ben Higgins just committed a cardinal social-media sin, by publicly, and without adequate spoiler warning, revealing the winner of this season of The Bachelor before half the country have seen the show.
"Watch this beautiful woman and I on @JimmyKimmel," he posted. 'This beautiful woman' being Lauren. The Winner. Whoops.
Due to the cross-country time difference, viewers on the West Coast had not yet seen the show. They were quick to metaphorically lynch chastise Higgins for his blunder.
"You just ruined this for anyone watching on the west coast. Congrats."
"Really!?!? Your an idiot!!! Who is your publicist?????"
"Thanks for not taking the West Coast into consideration!"
While the insults and telling off took on many creative (and violent) forms, the West Coast public's sentiment can probably be best surmised by the following sentence:
"OMG YOU JUST SPOILED IT. YOU SUCK."
Another favourite is the simple yet effective:
"lol ben, you assclown"
Some angry fans have suggested that Higgins' brain fade might be further proof that he isn't in the right frame of mind. They're not happy with his choice of lady-love.
"WHAT THE HECK BENJAMIN HIGGINS?!? see your brain has gone to mush picking Lauren B… Jojo had brains and beauty going for her. #teamJojo #JojotheBachelorette"
Poor bugger was just too excited to tell the world about his new fiance.
We can't all compete for love on national (or international) television. But that doesn't mean we're looking for your advice. Here are the cliches single girls are sick of hearing: