1. Married At First Sight's Davina just took a swipe at Channel 10's Bachelor in Paradise producers and, wait… what?

Married At First Sight's Davina is so done with manipulative reality TV producers, okay? And not just on her own reality TV dating show.
The Brisbane businesswoman/social media influencer, who has spoken about how the way she was 'portrayed' on Channel Nine's latest season on MAFS in the past, has now stepped in to shelter recently evicted Bachelor in Paradise contestant Brett Moore from the same emotional hardship.
After presumably watching along with the rest of the country as Brett was confronted by a show producer and asked point-blank, DO YOU HAVE A GF YES OR NO?, Davina felt compelled to share her thoughts on the matter on her Instagram story.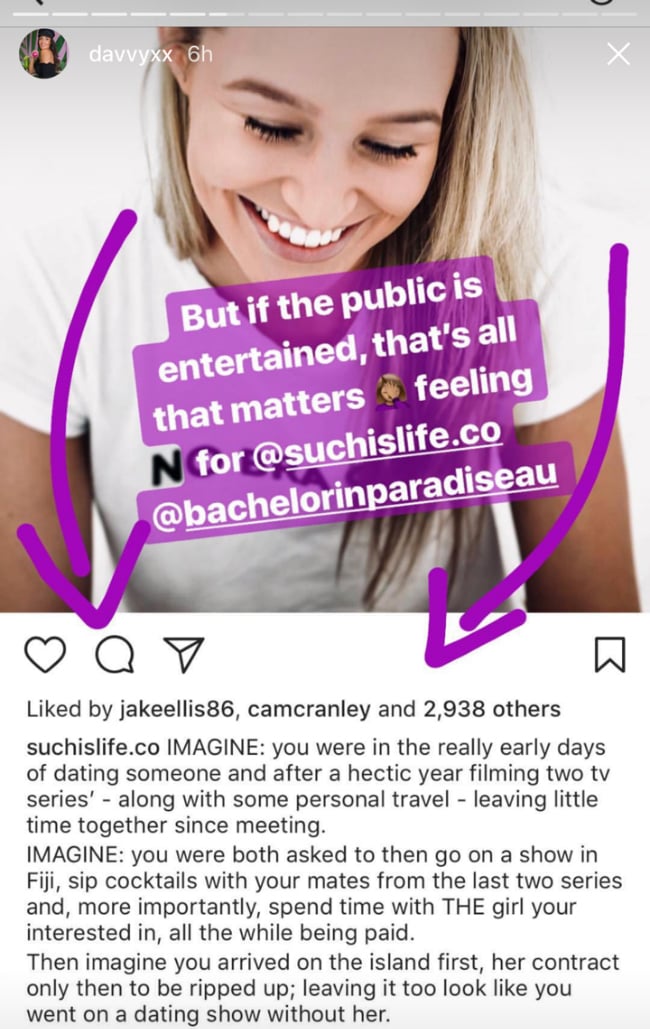 "But if the public is entertained, that's all that matters," she wrote, throwing shade at the producers for exploiting poor Brett's complicated first-world relationship problems.
"Feeling for @suchislife.co @bachelorinparadiseau."
Considering all the drama the show has gotten from turning someone we completely forgot about into the most interesting thing about Bachelor in Paradise so far, we have a feeling no one is all that worried about Davina's comments.
Davina is INCAPABLE of saying sorry and we need to talk about it. Post continues after audio.
2. Lena Dunham has a new boyfriend. He's rather mysterious.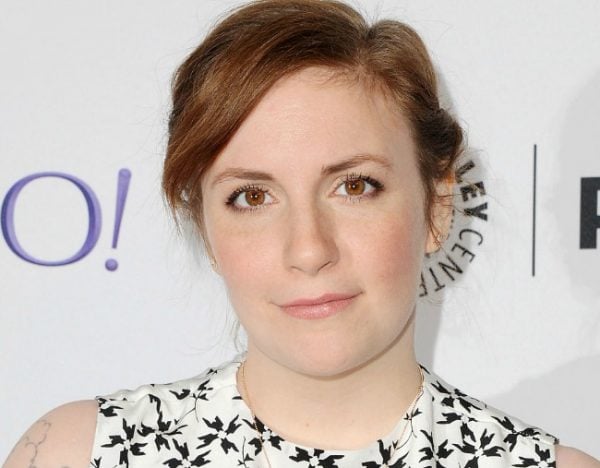 Just months after announcing her split with musician Jack Antonoff, Lena Dunham been walking the streets of West Hollywood with ANOTHER MAN which means, obviously, SHE'S GETTING MARRIED AND THEY WILL BE TOGETHER FOREVER.
Dunham and her "mystery man", as the tabloids put it, stopped by a marijuana dispensary on Saturday night, which seems like an appropriate way to spend a weekend in Hollywood. That's all we know about him basically.
Earlier this month, Dunham's ex-boyfriend Antonoff went to a basketball game in New York with model Carlotta Kohl, so clearly they too are getting married.
The indie couple du jour announced their split in January, with Dunham telling her Instagram followers that despite the break-up, she will continue to wear a ring he gave her.
"I'm wearing this ring that Jack gave me and I'll always wear it," she said.
"Love is a really cool, eternal, powerful thing. It doesn't have to be defined the way we, in Western culture, define it—as beginning and ends. Things can be, 'You're a drop of water and you reenter the ocean.'"
Deeeeeep.
3. That emotional vow renewal ceremony between Married At First Sight's Telv and Sarah? Yeah... that was a lie.

We still, kind of, don't know what to do with our lives since the end of MAFS. But that doesn't mean news doesn't roll in every day about our once upon a time fairy tale(ish) couples.
Favourite pair Telv Williams and Sarah Roza made us all applaud when they renewed their vows and committed to each other in the final ceremony. But yes, in another MAFS twist - because there weren't enough this year apparently - this final vow ceremony was fake AF.
It was a lie. A LIE WE TELL YOU.
The romantic ending may have been staged after the pair allegedly split BEFORE the vow renewal, according to Telv's mother Tracey Bamblett Onus.
Daily Mail Australia reports that Tracey claimed her son,"was encouraged by producers to take part in the ceremony" even though he had claimed the "relationship was already over".
"They (producers) were coercing him into doing something which he basically didn't want and that was to do the re-commitment ceremony," she claimed.
"He didn't even want to re-commit."
Continuing with breaking our hearts a little more, Tracey also claimed Telv was asked to "stay because of the show" despite wanting to "leave the show in November".
We think it is almost about time to break up with reality television TBH.
4.  After their son's cancer diagnosis, Michael Buble and his pregnant wife Luisana Lopilato have made a return to the red carpet.

It hasn't been easy for singer Michael Buble and his wife Luisana Lopilato the last few years, with the eldest of their two sons, Noah, enduring an ongoing battle with liver cancer.
But things were looking up on March 25, when the couple attended the 2018 Juno Awards in Vancouver, Canada, with actress Lopilato proudly sporting a growing baby bump. The pair are expecting their third child.
Having had to cancel his role as host at the same awards last year, 42-year-old Buble returned to take on hosting duties at this year's ceremony. And he had his wife beaming beside him. Aw.
While Noah is still undergoing treatments, Lopilato told an Argentine TV host that "the worst was over".
The couple have returned to work after putting previous commitments on hold to look after their four-year-old son.
A source told US Weekly that Buble is keeping his "workload light so he can spend as much time as possible" with his family.
5. Christina Aguilera went bare-faced for the cover of Paper magazine, and fans are here for it.
We hardly recognised Christina Aguilera on the latest cover of Paper magazine.
The 37-year-old singer looks to be mostly makeup free, ditching her trademark heavy liner and red lips.
And fans were loving her pared-down appearance, begging the singer to keep the natural look in the comments section on Instagram.
"You really should go with this look," wrote one fan.
"Such a natural beauty," commented another.
Speaking to the publication, Christina discussed the transformation she made for the cover.
"I've always been someone that obviously loves to experiment, loves theatrics, loves to create a storyline and play a character in a video or through stage," she said.
"I'm a performer, that's who I am by nature. But I'm at the place, even musically, where it's a liberating feeling to be able to strip it all back and appreciate who you are and your raw beauty."
You can read more about Christina Aguilera's fresh-faced new look right here.
Want to win some skin care goodies? Like to have your opinion heard? Take our short survey now for your chance to a win a skin care pack.