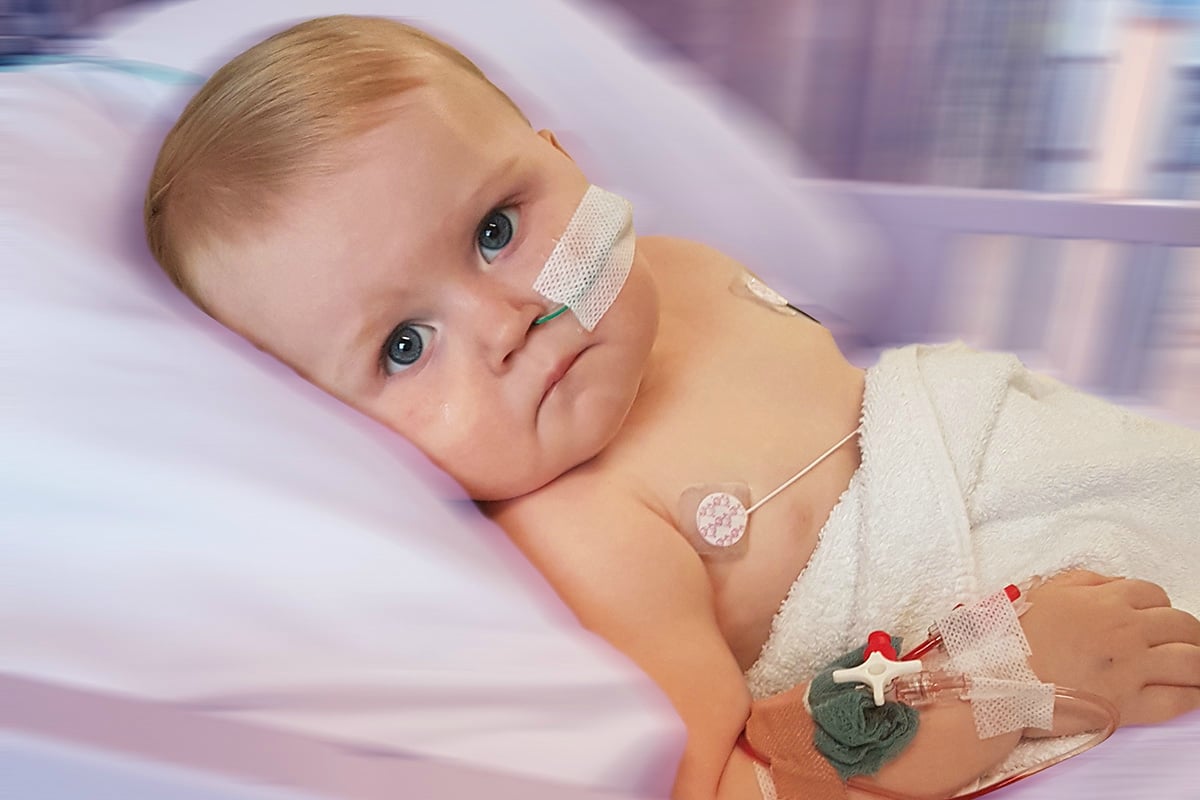 Melbourne mother Tania O'Meara recounts how her healthy baby, Eden, almost lost her leg to a flesh-eating infection caused by Strep A. Strep A is very common, and for most of us it only causes a sore throat. But it has a nastier side. Strep A is highly contagious and kills half a million people every year. In Australia, Strep A causes severe infections that are difficult to stop. This is Eden's story as told by her mum, Tania.
Eden was 11 months old, and just a normal, gorgeous, healthy baby girl. She is our first child and an absolute joy. Towards the end of last year she did have run of very bad colds that seemed to last about a month. Apart from that there was nothing out of the ordinary until my husband, Shaun, and I put her to bed with what seemed like a cold on an ordinary Friday last December.
On Saturday, December 1, she woke up with a fever of 39.6 and was very unwell. We went to our family doctor, and he sent us straight to our local hospital.
At first they didn't really know what was wrong with her. Eden was really pale and limp and her temperature was so high. She was also very dehydrated and the doctor said she needed an intravenous line. Yet because she was so dehydrated it was hard to put a line in.
It was then that the doctor noticed that the skin on her leg was sort of marbling, like it was turning a different colour. He got in another doctor and this senior doctor couldn't get the line in either. It was then they told us they wanted to put an IV line straight into the bone in her leg.
My husband and I gave them permission to do whatever they needed to do to help her. They announced that we were all going to the resuscitation room, and that's when everything changed.
The look on people's faces and the urgency was different. They got this red gun out and it was like a drill and they drilled it into her leg which was horrendous to watch.
Shaun and I turned to the doctor and asked him what was going on, and he said, "I don't really know, but we need to get you to The Royal Children's Hospital."
The Royal Children's Hospital were second to none – they were amazing. They never sugar-coated anything. We learnt that Eden had an aggressive bacterial infection in her leg and her blood was septic – poisoned. She needed surgery on her right calf to remove necrotic (dead) flesh.
We were basically told that she could die and we braced ourselves. I don't know how to describe what you go through. It all seems surreal, like a bad dream.
When she came back from surgery we got the best news we could get. Eden was alive. She still had her leg and they had even saved her calf muscle.