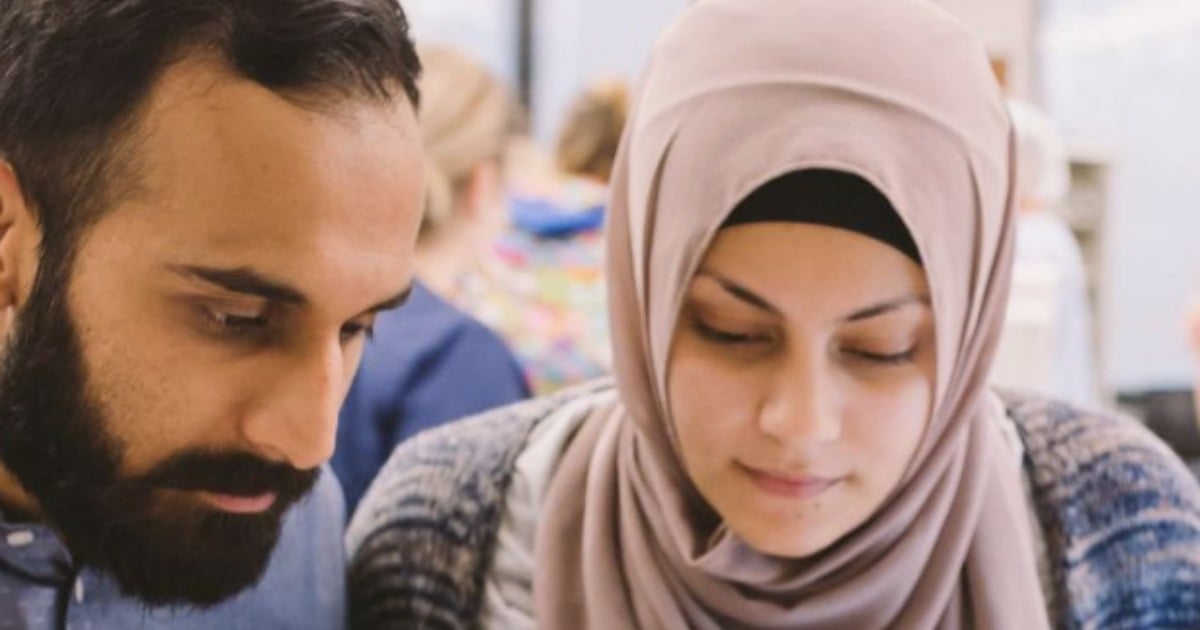 By the National Reporting Team's Rebecca Armitage and Alison Branley
The parents of a baby girl who suffered permanent brain damage when she was accidentally administered laughing gas at a Sydney hospital say she is experiencing constant seizures and must be fed through a tube.
Baby Amelia Khan was inadvertently given nitrous oxide instead of oxygen shortly after she was born at Bankstown-Lidcombe Hospital in Sydney's southwest on June 20.
Her parents, Benish and Danial Khan, said Amelia was a much anticipated first child and they were devastated the incident had left her with irreversible brain damage.
"We remain full of hope for Amelia's future but we worry for her and want to do everything we can to make sure she has the best life she possibly can," they said in a statement.
A month after Amelia was born, a second baby born at the same hospital was also given nitrous oxide and later died.
Mr and Mrs Khan have expressed their sympathy to the parents of the baby boy, who was named John Ghanem.
"We can only imagine the intense pain this family is going through and our hearts go out to them," they said.
The law firm Maurice Blackburn is representing the Khan family in a potential claim for compensation from Bankstown-Lidcombe Hospital.
"We are in the very early stages of investigating that claim," said medical negligence lawyer Libby Brookes.
"We will work to get the best possible outcome for Amelia to ensure she gets what she needs so that she is given every chance to reach her potential."
Mr and Mrs Khan said they wanted to prevent the same tragedy happening to other families.
"We just want everyone to know what happened to Amelia won't ever go away. She will always have to live with the consequences of what was done to her at the hospital," Mr and Mrs Khan said.
"But we will always be by her side and we'll do everything we can to give her the best possible future."
A report into the fatal mix-up by New South Wales Health found the incidents were the result of incorrect installation of gas pipelines, governance failures and flawed testing.
General manager of Bankstown Hospital Chris Leahy and an engineer involved in commissioning the gas line, have both been stood down.
Not the first case of a gas mix-up
The Bankstown Hospital incident is not the first example of hospitals crossing gas lines.
In May this year an eight-year-old boy died and an 18-month-old boy was critically injured in India after nitrous oxide and oxygen lines in an operating theatre were swapped by a local contractor.
In Italy in 2010 doctors published a journal article in which they detailed eight cases of elderly patients who died from nitrous oxide poisoning.
The cardiac patients died after oxygen lines were crossed in an intensive care unit in a public hospital.
In that case the lines were from an Italian supplier.
Between 2000 and 2002 there were 78 unexplained deaths of premature babies who were treated with ventilators at the Empangeni Hospital in South Africa.
There were initially concerns it was the result of a mix-up with oxygen gas bottles.
A total of 155 babies were reported at the time to have been exposed to nitrous oxide as a result of faulty pipe connections.
The problem was indentified when a pediatric staff member at the hospital noticed babies were not responding as they should to enriched air.
The Government later said it could not confirm the primary cause of death in 74 cases, and gas lines in the hospital were confirmed to be safe.
In Hong Kong in 1989 restaurant critic Shirley Boyde died after receiving nitrogen from an oxygen bottle marked "oxygen" at the Canossa Hospital.
Three pregnant women reportedly also received carbon dioxide from a bottle marked "nitrous oxide" at the Caritas Medical Centre.
This post originally appeared on ABC News.

© 2016 Australian Broadcasting Corporation. All rights reserved. Read the ABC Disclaimer here.