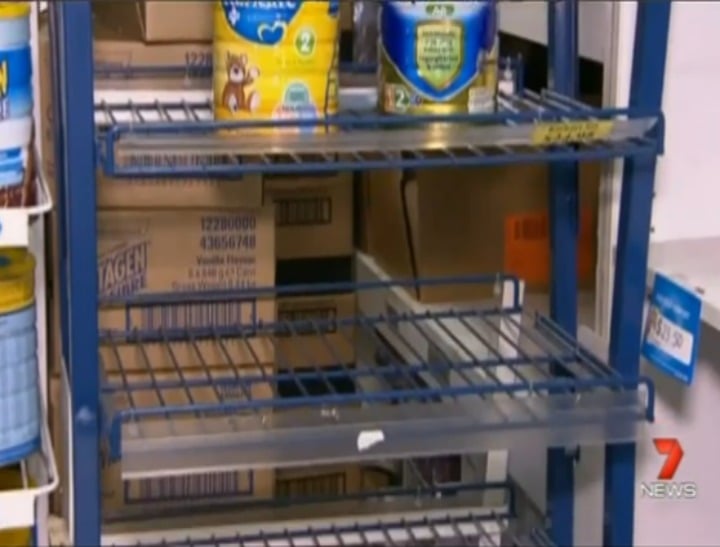 The baby formula shortage war has ramped up.
There have been threats of racism and accusations of xenophobia. Petitions and calls for changes to the Free Trade Agreement. There have been demands to change the Customs Act and furious calls to lobby the government.
And it's all about baby formula.
If you don't have an infant or you haven't been lurking in a Facebook mothers, you might not know what I mean. You might not have seen the photo everyone is talking about.
But if you do have a formula fed baby then there is no doubt you would have experienced the same frustrations as thousands of other parents around the country. And that is the inability to obtain your baby's infant formula due to a shortage of stock on supermarket shelves.
Melbourne mother Jessica Hay has uploaded an image to Facebook of a shopper buying up dozens of tins of A2 Platinum baby formula at her local supermarket.
An image which has gone to the heart of the problem according to many.
It's believe people, like the woman in the image, are selling the formula to buyers in China for an extremely high price.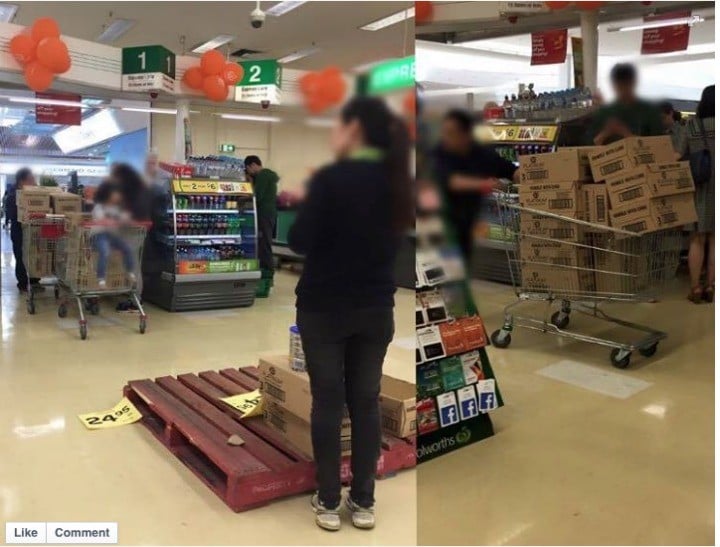 Ms Hay, who spoke to Fairfax Media about her viral image, said, "The group of four adults cleared a pallet of more than 50 tins despite the store's four tins per person limit."
"My blood was boiling for the mothers having problems finding A2 for their babies. I was feeling sensitive because I've got a newborn,"
"If they were with babies, it would be understandable, they need to feed their kids too. But it felt like a smooth operation, like they did this all the time."
She's referring to the well-publicised baby formula shortage, fuelled by an online black market for baby formula where tins are retailing for up $180 for a lot of three.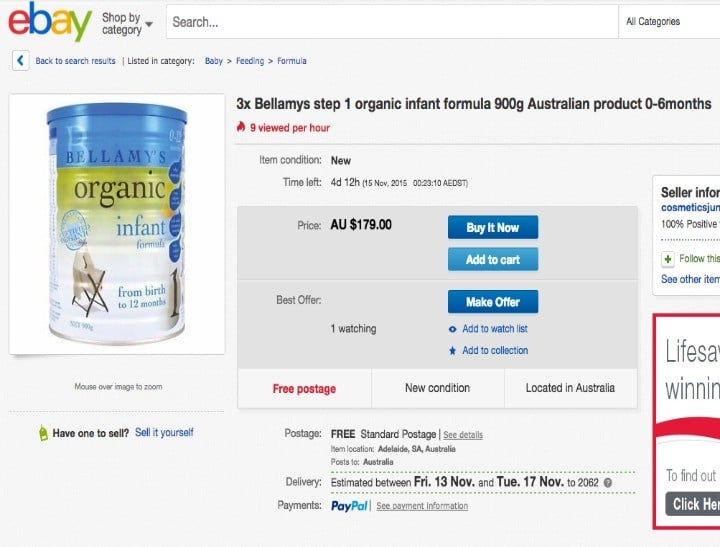 On the weekend Mamamia reported on the shortage of one formula – Ballamy's Organic.
The demand for this particular product has been so great that in the first six months of the 2015 calendar year, $27 million worth of Bellamy's infant formula was bought in Australia and on sold to the Chinese market.
The buyers stock up on the "white gold" then either ship it overseas to family and friends or sell it online.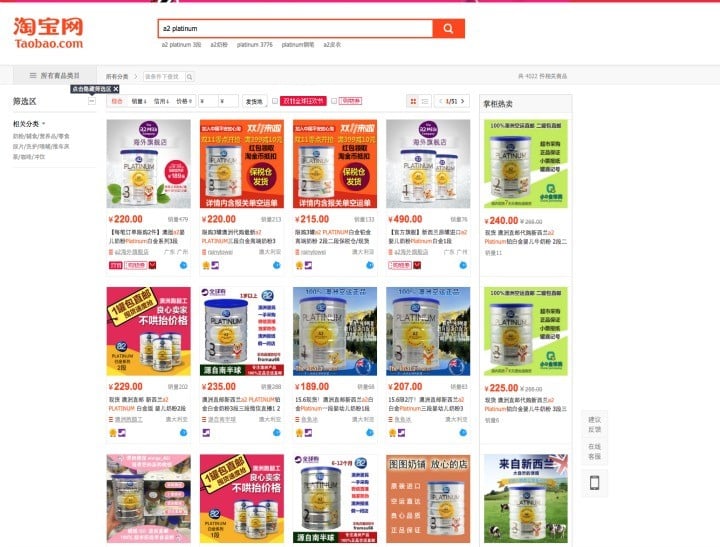 Seven News reports that the pallet in the photo uploaded by Ms Hay could net the buyers more than $1,500 on China's online auction site Taobao.com.
The unfortunate thing here is that the story is nothing new.
In 2013, The Daily Telegraph reported that Chinese students were being recruited en masse to buy up infant formula to sell on the black market.
This prompted chemists and supermarkets across Melbourne and Sydney to introduce limits on the number of tins per customer to prevent Chinese nationals depleting supply for locals.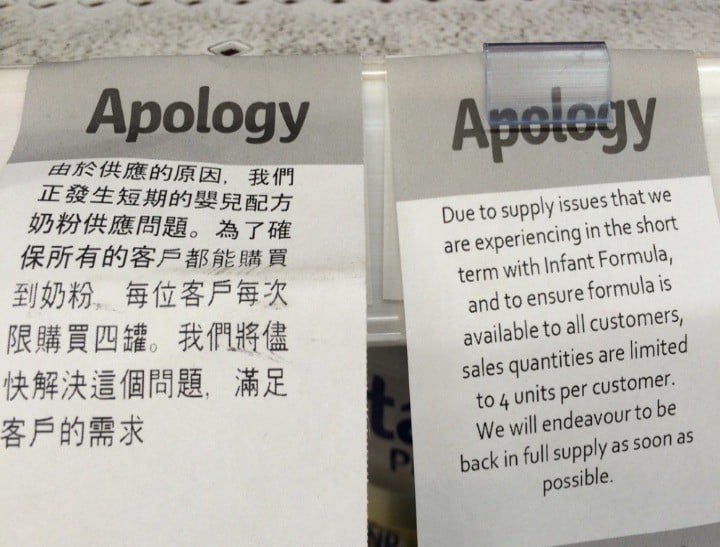 The limitations however have proved hard to enforce with reports that Chinese families were shopping on mass "pretending not to know each other."
The act of buying it and shipping it to China is not illegal. Baby formula is not a restricted or prohibited item under the Customs Act and Customs and Border Protection does not control its import or export.
Some underhanded techniques are being reported with some chemists writing of customers offering to pay cash for up to 5000 tins of formula before they even hit the shelves.
On the Facebook group that calls itself "Stop Foreign Ownership in Australia," one parent says:
"Drove around for 3 hours to 8 different shops. Not 1 tin in any of them. I had my mum driving around and she had to drive to the other side of town to get a tin. It is beyond frustrating at this point. When you have a baby with certain needs you have to find your particular brand."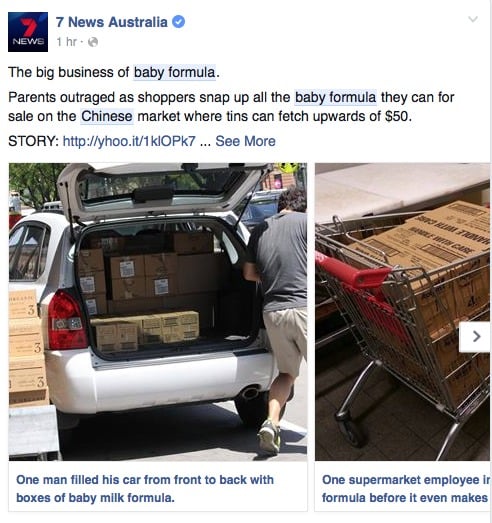 Sadly behind the frustrations and anger of Australian parents the real story is even more heartbreaking.
The real story is that demand for Australian baby formula is high because locals in mainland China fear feeding their babies contaminated formula after six babies died in 2008 when a Chinese infant formula was contaminated with melamine – a substance used in plastics and flame retardants.
54,000 babies ended up in hospital – and reports are that Chinese officials knew more than a month before the contamination was made public.
In 2011 there was then another scare when trace amounts of cesium from the Fukushima Daiichi nuclear power plant were found in Japanese baby formula. Meiji Holdings Company, the Tokyo-based company that makes the baby formula, issued a recall on approximately 400,000 cans of the formula while still assuring parents that their babies could "drink the formula every day without any effect on their health."
The other compounding factor is that in many cases Chinese parents had little choice but to use infant formula, with mothers returning to work two weeks after giving birth to their child to keep their jobs.
Of course you'd be terrified of breastfeeding or using local formula.
The very frightening story behind the formula shortage…


But the reasons aren't any comfort to those Australian parents fearful too – their children could go hungry or suffer ill effects by changing products.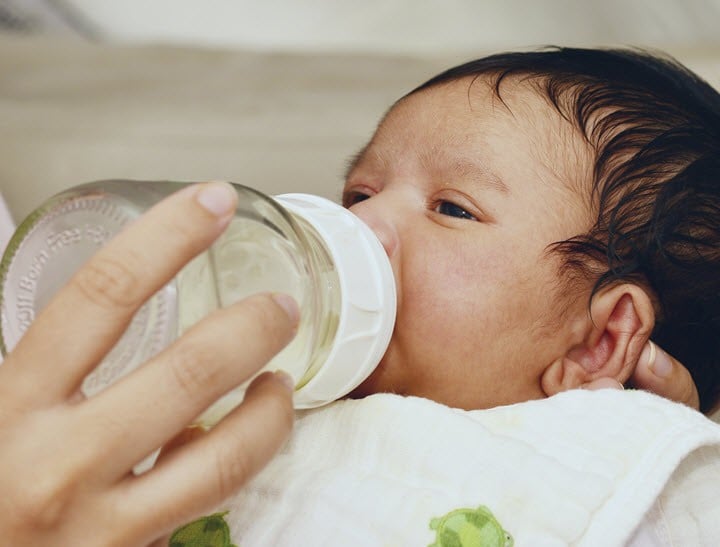 Meanwhile those who are profiting off the shortage are working overtime to increase their profits and meet the unexpected demand.
Business Insider reports that Bellamy's Australia have contracted warehouses in Singapore, Hong Kong and China to service the growing market and continue to develop online international sales.
But whether that will solve the problem on both sides of the world remains to be seen.
Have you had rouble finding formula for your baby?