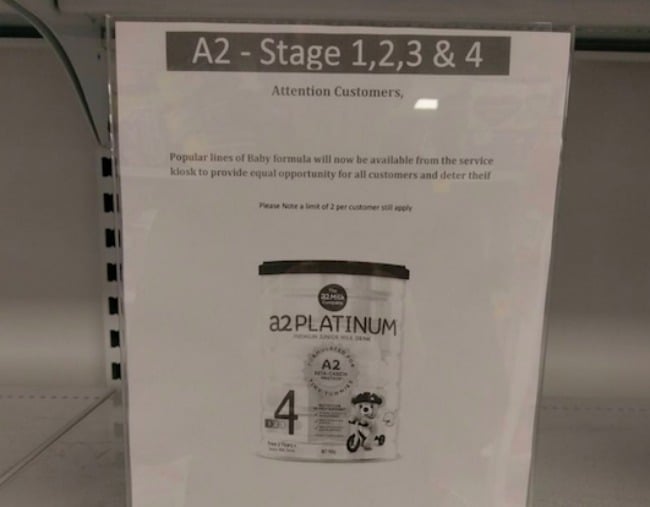 For many Australian parents, breastfeeding their child isn't an option. While the reasons for this certainly vary, there is a huge market for top quality baby formula.
Due to the high quality of Australian formulas, there is also a significant demand for the product in overseas markets, such as China, which has led to some Australian supermarkets locking baby formula away.
Yesterday, Reddit user puppy2010 shared an image of a notice regarding baby formula being moved at Coles. The notice read, "Popular lines of baby formula will now be available from the service kiosk to provide equal opportunity for all customers and deter theft."
The notice reiterated that a customer could only buy a maximum of two items at any one time.
In April this year, the Sydney Morning Herald reported on a woman named Hannah Goland, whose six-month-old baby was allergic to milk which would trigger hives and an anaphylaxic reaction. Instead, she required a specific brand of prescription formula.
"I guess if a tin doesn't come through, I'll have to take him to hospital," Ms Goland said.
"It is quite a scary thought. The government need to do something."
With severe shortages of basic and prescription baby formula in Australia worsening, cases such as these are especially concerning, as Australian parents struggle to feed their children.
While practices such as locking away the formula, and placing a cap on the amount bought at any one time are useful in preventing theft and over-buying, it can be isolating for others.
This includes those who live in rural areas and can no longer purchase baby formula in bulk, forcing some families to take their children to hospital for basic nutrition.