Warning: This post includes details and imagery of stillbirth that may be triggering for some readers.
Aimee Green and her partner Ryan Conroy had spent many weeks creating the perfect pink nest and practising their pram-pushing in eager anticipation of their baby girl's arrival.
Finally, after a textbook nine-month pregnancy, November 2017 swung around and the big day was here.
The young British couple had meticulously researched, discussed and planned out exactly how the birth would unfold: at home, just two of them, in a birthing pool, and supported by a team of midwives. But, tragically, and in a way that no one could ever have foreseen, their daughter Luna didn't survive.
Green has recounted her experience in a heartbreaking blog in the hope it helps other grieving parents.
She wrote that on the day of the birth, she called their local hospital in Plymouth to let them know she was having a home birth. Midwives were sent over, and the 11-hour labour progressed smoothly.
But in the very final moments of the birth, things went terribly wrong. The umbilical cord had fatally ruptured, and Luna was stillborn.
"I looked up to see the faces of (midwife) Lizzie and Ryan stood side by side, of which this image still makes me feel sick, why isn't everyone smiling?" she wrote.
"This was not the feeling of euphoria I was expecting, why isn't she crying, what's going on?"
Luna was whisked away to the resuscitation table in the kitchen, and Green's sense of time and space suddenly began to blur.
"What was going on, why wasn't she crying, what are they doing to her, am I okay, am I alive, am I dreaming, when will I wake up?" she wrote.
"At that very moment I just wanted to die. I had no idea how Ryan would ever love me again or how I would cope. This was the lowest point I had ever felt in my whole life."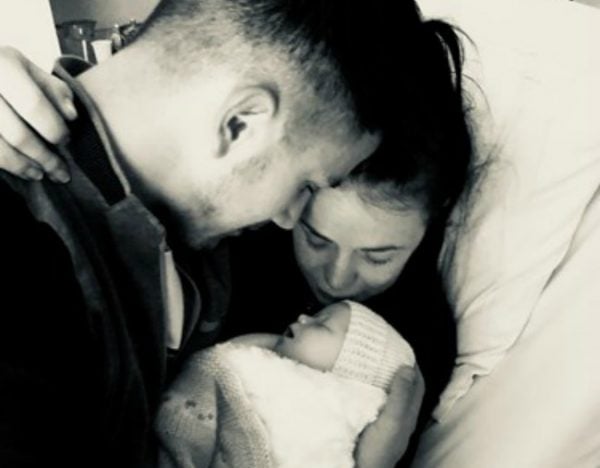 Green couldn't grasp how it was possible for her baby to have been with her the whole way until the last couple of pushes.
Luna was rushed to hospital in an ambulance, with her parents following shortly after in a separate vehicle. But nothing could be done to save her.
Green said she immediately began to question her decision to have a home birth.
"Getting to the hospital I have never felt such shame, embarrassment or guilt in all my life. I couldn't bring a live baby into the world, what the f**k is wrong with me?
"I kept saying sorry to everyone as I didn't know what to do to make them feel better.
"It was my fault, why did I have a home birth, why didn't I listen to them all and have a hospital birth, why was she a happy baby for 11 hours of labour but not the last few minutes? What had I done?
"I felt as though I had been hit by a train, my stomach had been kicked, twisted and stamped on. I just sobbed. I sobbed my heart out with such might I couldn't breathe."
Sarah Stewart, a midwifery adviser of the Australian College of Midwives, stressed that no woman in Green's position should blame herself.
"Even in this day and age where we have all the technology and knowledge, there are things you cannot plan for - even in hospitals. It doesn't matter whether you choose to have your baby at a hospital, a birthing unit or at home," Stewart told Mamamia.
"It's one of those dreadful unforeseen things that still happens."
LISTEN: For anyone going through grief. Post continues after audio.

Stewart said she felt "intense sympathy" for the parents.
"I'm a mother myself of two children and it doesn't matter what the circumstances are, when a woman and her partner lose a baby, it's just devastating."
But Stewart said what Green and Conroy went through was "extremely rare", and in her 34 years working as a midwife, she had never had to deal with a ruptured umbilical cord.
In Australia, home births are still relatively rare. Only 0.3 per cent of births took place at home in 2015, according to the Australian Institute of Health and Welfare. This is far fewer than in the UK, where 2.3 per cent of women had home births in 2013.
Stewart said the Australian College of Midwives supported women's right to choose to have a home birth.
"For mothers who have no risk or complications we feel that home birth is an appropriate choice to make," she said.
She said it was important for women considering this option to thoroughly evaluate their situation (including their medical history, their distance from a hospital, their support network) with a health care professional.
"The other thing is to be mindful of what goes on in pregnancy because sometimes you can start off being a great candidate for home birth and as it progresses things can change, even in labour," she said.
Today, Green is confident that her choice to have a home birth was not the reason for her baby's death, and said medical tests confirmed this fact.
"Even to this day, my labour remains an incredible memory," Green wrote.
She and Conroy have now turned their grief into something positive, crowdfunding to launch a charity to support bereaved parents who experience stillbirth or neonatal death.
To support Luna's Fund, click here.
If you or a loved one has experienced miscarriage, stillbirth or the death of a newborn, support is available via SANDS Australia. Call them anytime on 1300 072 637.
Want to win some skin care goodies? Like to have your opinion heard? Take our short survey now for your chance to a win a skin care pack.