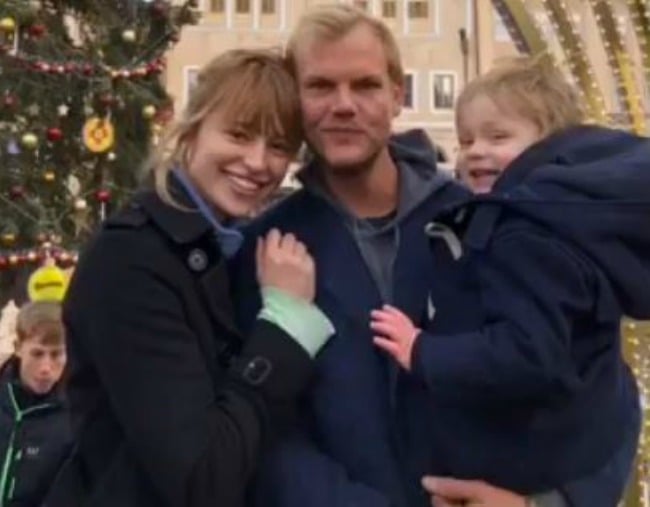 With AAP.
1. Avicii's girlfriend says she has been trolled on social media in the wake of the musician's death.
Less than a month after he was found dead while on holiday in Oman, Avicii's 'secret' girlfriend has penned a lengthy statement on social media about the many "vultures" who "stepped out of the shadows" to troll her.
A week after Avicii (real name Tim Bergling) died, model Tereza Kačerová posted on Instagram, revealing she had been in a long-term relationship with the star.
"You have accused me of 'exposing Tim' to get 'fame and money' while throwing every insult under the sun my way," she wrote on Instagram on Friday of the way she has been treated since posting her original tribute.
"This is the most horrible time of my life. I'm drowning in all-encompassing sadness.
"Anxiety sets in about two hours before I open my eyes, I can't count the amount of times I've had a beer even before I brush my teeth, and I have to explain to Luka over and over that Tim can see him from the sky but he will never ever see Tim again.
"Yet all you are capable of is negativity. Sweet little comments like: 'Tim decided to check out because he was sick of you,' go beyond crossing all lines, and you should be ashamed of yourselves for being such vile creatures.
"Strong words for anonymous accounts."
Kačerová went on to write Bergling would be "appalled" at the way some of his fans are treating her.
"You think it's in ANY way acceptable to try and make this more painful for me than it already is?"
If you or someone you love is in crisis or needs support right now, please callLifeline on 13 11 14 or BeyondBlue on 1300 224 636. If it is an emergency please call 000.
2. Professor David Goodall, 104, has died by assisted suicide.

Australia's oldest scientist David Goodall is expected to be cremated in Switzerland where he died from assisted suicide aged 104.
After enjoying a final meal of fish and chips and cheesecake, Professor Goodall took his own life on Thursday at a clinic near Basel, to the strains of Beethoven's final symphony and surrounded by family.
He did not have a terminal illness but his quality of life had deteriorated in recent years.
He could not end his life in Australia, where assisted suicide is not legal, so took a one-way ticket from Perth to France last week to see relatives before arriving in Switzerland, where it is permitted.
Philip Nitschke, founder of right-to-die group Exit International, said Prof Goodall showed humour and a twinge of impatience in his final moments as formalities were tended to, uttering the last words: "This is taking a long time".
"During the paperwork, he said 'what are we waiting for?' Dr Nitschke told AAP.
"His final words were 'this is taking a long time'.
"He'd been told that everything would be very quick and in some ways, there had been a few delays."
Dr Nitschke said Prof Goodall's death was peaceful.
He said it was very likely the esteemed ecologist would be cremated in Switzerland, with his ashes to remain in the country, while his family in Perth are expected to hold a memorial in coming months.
Readers seeking support and information about suicide prevention can contact Lifeline on 13 11 14.
Suicide Call Back Service 1300 659 467.
3. Kim Jong Un and Donald Trump to meet for the first time next month.

Leaders of the United States and North Korea will meet for the first time when President Donald Trump and Kim Jong Un hold a summit on June 12 in Singapore where the US side will try to persuade Pyongyang to give up its nuclear weapons.
"The highly anticipated meeting between Kim Jong Un and myself will take place in Singapore on June 12th. We will both try to make it a very special moment for World Peace!" Trump wrote on Twitter on Thursday.
His announcement came just hours after three Americans who had been held prisoner in North Korea arrived at a US military base outside Washington, having been released by Kim as a gesture ahead of the summit.
Trump said on their arrival that he believed Kim, who has led North Korea for seven years and is believed to be in his mid-30s, wanted to bring North Korea "into the real world".
The highly anticipated meeting between Kim Jong Un and myself will take place in Singapore on June 12th. We will both try to make it a very special moment for World Peace!

— Donald J. Trump (@realDonaldTrump) May 10, 2018
"I think we have a very good chance of doing something very meaningful," Trump said. "My proudest achievement will be - this is part of it - when we denuclearise that entire peninsula."
Trump and Japanese Prime Minister Shinzo Abe spoke by telephone on Wednesday and the White House said the two leaders "affirmed the shared goal of North Korea abandoning its illicit weapons of mass destruction and ballistic missile programs", and remained committed to cooperating with South Korea.
In a speech on the floor of the US Senate, Democratic leader Chuck Schumer warned Trump against going too far too fast in Singapore. The Republican president, Schumer said, should insist upon strong, verifiable commitments from North Korea on disarmament.
"I worry that this president, in his eagerness to strike a deal and get the acclaim and a photo op, will strike a quick one and a bad one, not a strong one, not a lasting one," Schumer said.
During Trump's presidency, Kim has overseen weapons tests that rattled the US, South Korea and Japan as the North Korean leader attempted to showcase his military's progress on medium- and long-range missiles and atomic weapons.
Trump has credited a US "maximum pressure" campaign for drawing North Korea to the negotiating table and vowed to keep economic sanctions in place until Pyongyang takes concrete steps to denuclearise.
But former spy chief Kim Yong Chul, director of North Korea's United Front Department, said in a toast to new Secretary of State Mike Pompeo over lunch in Pyongyang this week: "We have perfected our nuclear capability. It is our policy to concentrate all efforts into economic progress....This is not the result of sanctions that have been imposed from outside."
Kim recently promised to suspend missile tests and shut a nuclear bomb test site.
The choice of Singapore will put the summit on friendly turf for Trump, as the island nation is a strong US ally and the US Navy frequently visits its port.
Trump's own preference was for the demilitarised zone between the two Koreas, but aides argued that this would look too much like Trump going to Kim's turf.
South Korea said on Thursday it had high hopes for the summit.
"We welcome the North Korea-US summit to be held in Singapore on June 12. We hope the denuclearisation of the Korean peninsula as well as permanent peace on the peninsula will successfully come about through this summit."
4. Labor MP denounces government's plan to trial drug testing of welfare recipients.
Vulnerable people could be left worse off by a federal government plan to trial drug testing of welfare recipients, a federal opposition MP has told parliament.
Labor's social services spokeswoman Jenny Macklin says they opposed the trials the first time legislation was introduced to parliament and will do so again now it's made a comeback.
The controversial policy would allow 5000 Newstart and Youth Allowance recipients in three locations in Queensland, NSW and Western Australia to be drug tested.
Those who test positive would have their payments cut, while multiple positive tests would result in a person being referred for treatment.
"There is a clear consensus this trial will not work - it is not based on evidence and in fact this trial could make the situation worse for some very vulnerable people," Ms Macklin said on Thursday.
She also questioned how long people would have to wait for treatment given there are 1500 publicly funded rehabilitation beds across the country and more than 32,000 requests for treatment.
"Often waiting lists become so long they no longer accept applications onto those waiting lists," she said.
"If this government was serious about addressing drug addiction in the community they would do so much more to address this problem."
Nationals MP Llew O'Brien said as a former police officer he'd seen people with addictions and on welfare who were in terrible situations.
"They slipped through the cracks and this bill is about finding those people and helping them," he said.
"It's aimed at identifying people who need help to break the cycle of addiction and welfare dependency so we can help them into work."
The drug testing trials were part of broader welfare reforms that passed parliament earlier this year, but were withdrawn after struggling to get Senate support.
Social Services Minister Dan Tehan reintroduced the legislation on its own in February.
5. After a woman suddenly collapsed at home, her tiny dog saved her life.
A dog has been credited with saving her owner's life, after she collapsed suddenly at home with a lung clot.
On Sunday morning, 59-year-old celebrity doctor Sally Cockburn told 7 News she was home alone when she felt, suddenly, as if she was suffocating. She collapsed.
Dr Cockburn woke when her dog, Molly, began licking her face.
"Pets, they know when something is wrong," Dr Cockburn told 7 News.
"I really couldn't tell you where I'd be if she hadn't done that."
Awake but breathless, Dr Cockburn called 000 and was taken straight to hospital. It was there hospital staff found she had a pulmonary embolism, where a clot had travels from her veins, blocking the arteries to the lung. Left alone much longer, and it could've been fatal.
"She's just a star, she's a princess and I love her dearly," Dr Cockburn said.