The first time I met my dog, she had a different name. At the Sydney Dogs and Cats Home, a no-kill shelter for lost, abused and abandoned animals, I was introduced to Ruckus.
I thought this name was terrible.
For a start, she was timid, shy and – I thought – incredibly pretty. Scruffy but pretty. She had big brown eyes, full of fear and stories I would never know. What should we call her? I asked my husband. "Bella" he said. "Because she's so pretty."
He's chosen the names of most of our children so he has form in this department.
Bella she became.
Our other dog, also a rescue from Sydney Dogs and Cats Home, also had a name when we met him: Harry. But it suited him so he kept it.
Harry and Bella enjoy going to the park and it was there I discovered how bog standard common my pretty new dog's name actually was.
If you go to a dog park and call out "Bella", you will be run over by responsive female dogs rushing towards you. My dog will be among the pack.
It turns out that Bella is the most common dog's name in Australia. It's also the top cat's name. Do cats even come when they're called? Do they need names?
I've never owned a cat. These questions are genuine.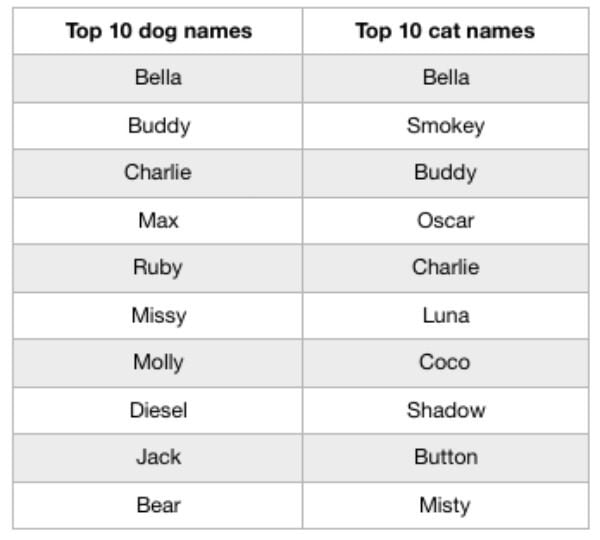 Bella is also apparently a popular name for rabbits, according to a survey about pets from rent.com.au.
The other trend I've noticed is the blurring of lines between people names and pet names. My daughter's name is on the cat list. There are quite a few Coco dogs at my local park, too. Then there's the inverse: not long ago I heard a woman call "Harry! Bella!" and I wondered why she was calling my dogs until I realised she was calling her children. I know children called Bear and Buddy and Diesel and Missy and Wolf and Chuck and Misty and....Bella. In fact I can think of children I know with every name on both the dogs and cats lists.