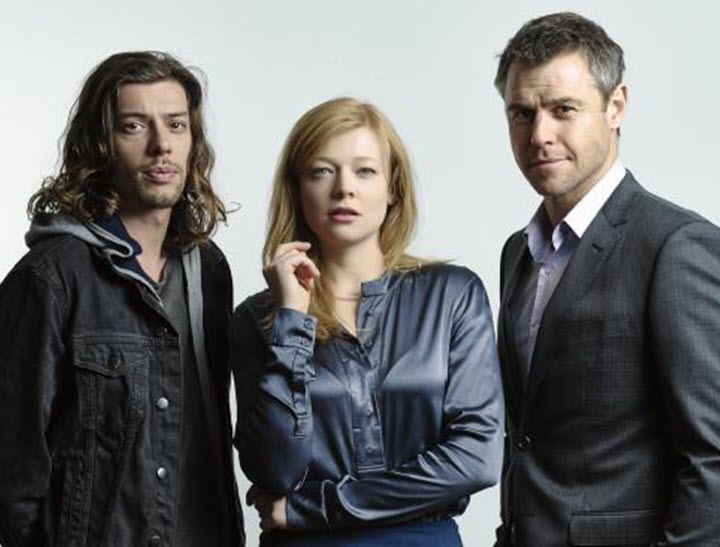 Glued to the screen.
We are presently, as we're constantly informed, experiencing a golden age of television, the advent of which was heralded with The Sopranos and continues apace with Fargo, Mr Robot and Netflix originals such as Orange is the New Black and Narcos.
For a long time, it seemed Australia wasn't really a part of this renaissance. We had twee family dramas that inevitably starred Rebecca Gibney (no offense to Gibney, Halifax FP was my jam) or Asher Keddie (again, Love My Way? Brilliant), or "gritty" crime shows like the Underbelly franchise.
There were moments of brilliance (see Love My Way and Halifax FP, above), but generally, Australian shows just couldn't really cut it with international productions.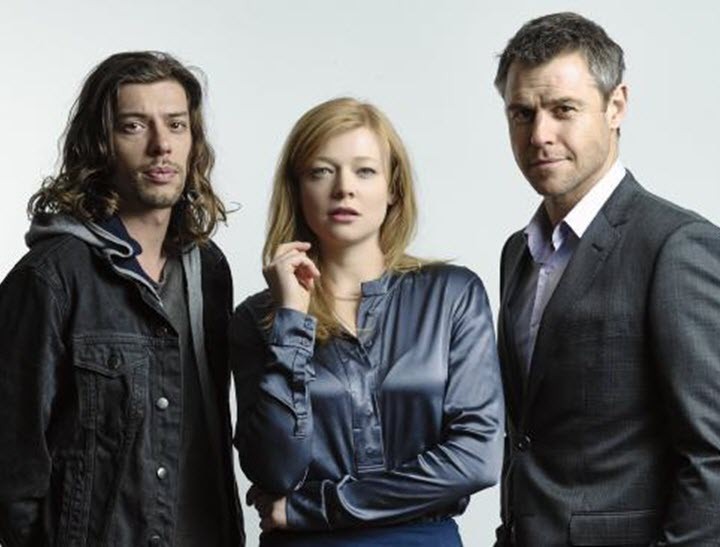 Now, though, it seems like we're catching up. There are some good things happening in Australian TV. Some very good things.
Here, our top five shows to watch right now. Or, you know, when you've got time.
The Beautiful Lie
This six-part series is a modern adaption of the classic Leo Tolstoy novel Anna Karenina set in Melbourne. From the beginning of the first episode, we know that soon, Anna Ivin (Karenina in the book, played Sarah Snook) will die. It's not a spoiler — the character tells us herself.
It all begins when Anna meets Skeet (Benedict Samuel) at the airport. There's an immediate spark, one that deeps after they witness an horrific accident together. Afterward, Anna begins to question her life, her choices and her marriage.
Anna and her husband (played by Rodger Corser) are remade, not as Russian aristocrats but as our modern equivalents: sporting legends. Sophie Lowe plays Skeet's fiancee, the incredibly self-centred Gen Y Kitty, and Gina Riley is perfect as her wealthy, disapproving mother. Celia Pacquola, Catherine McClements and Dan Wyllie also star.
Oh, and keep your ear out in the first episode for the incredible song by Marlon Williams. He sounds like Antony Hegarty.
It's produced by John Edwards and Imogen Banks – the same people behind Offspring.
Episode one is now streaming on ABC iView. Episode two will screen on ABC on Sunday.
The Principal
The original heartbreak kid Alex Dimitriades returns to the schoolyard in this four-part SBS drama which began airing in October 7.
Dimitriades plays Matt Bashir, the new principal of the multicultural Boxdale Boys High School in the western suburbs of Sydney.
We see Bashir, idealistic and fresh from a run as deputy head at a fancy girls' school, trying to turn things around at the beleagueured school.
It's a fascinating look at what happens in a neglected school where Middle Eastern, Pacific Islander and Anglo kids battle for supremacy and their pessimistic teachers all but give up on them.
In an excellently cyclical piece of casting, Dimitriades' old Heartbreak High co-star Salvatore Coco stars as a local butcher whose shop windows are constantly being broken by boys from Boxdale.
All four episodes can be streamed from SBS.com.au.
Please Like Me
Josh Thomas's awkward, charming, self-centred alter-ego has returned for a third season of this acclaimed comedy (it's pretty popular in the States, too).
The third season takes up where season two left off. Josh is pursuing his relationship with Arnold (the gay sex scene in episode one is refreshingly casual), his mum is suffering less with her mental health issue, and Clare is still in Hamburg.
If you've missed out on the first two seasons, you can watch them on Hulu. Season three is now on ABC.
No Activity
This show is on the list purely on the strength of its awesome trailer.
Watch it here… Post continues after video.
This Stan original series has an all-star cast (Kat Stewart! Tim Minchin! Dan Wyllie!) and an excellent premise.
It starts streaming on Stan on October 22.
Utopia
This painfully accurate depiction of government bureaucracy stars Rob Sitch as Tony, a role that's the complete inverse of his idiotic Frontline character.
Tony is the boss at the "Nation Building Authority", a (fictional) newly created government organisation with grand aspirations, and one of only two vaguely competent people on-staff (the excellent Celia Pacquola plays the other).
Series two has screened on ABC, but you can download episodes through iView.
What are you watching right now?