There's been a lot of hype around Survivor Australia's relaunch.
From concerns about it being too similar to the failed Channel 9 spin-off back in 2002, to not being similar enough to its stratospherically popular American parent, the expectations on this castaway reality were always going to high.
And if episode one is anything to go by, the theme of season 2016 is already clear: it's similar to both, but not too similar.
Channel 10's selection of host, Jonathan LaPaglia is about as Jeff Probst with an Aussie accent as you can get.
The choice is comfortable. It's familiar. And by choosing the brother of one of Australia's most loved actors and injecting a sense of familiarity, it's incredibly safe. He also looks confident in shorts, which helps.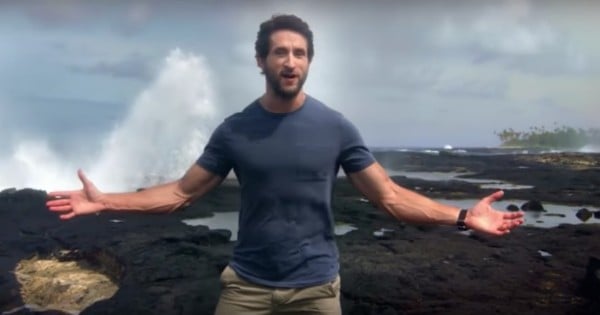 Australian Survivor host, Jonathan LaPaglia. Source: Australian Survivor / Channel 10.
Episode one begins with the types of long pans and dramatic music that could easily be confused for a David Attenborough documentary. Waves crashing on rocks, sun peaking through the clouds, crabs crawling along a beach, shots of a full moon.
NATURAL DRAMA AT ITS FINEST.
The remote Samoan island of Upolu, where the castaways have been marooned, again, looks like an extreme version of a familiar place.
And to Survivor diehards it should look familiar, because two seasons of the American version of the show have previously been filmed there.
Can you feel the drama brewing? Source: Australian Survivor / Channel 10. 
From here, we're lead to LaPaglia standing majestically on a rock and getting into the real reason we're all here - the game out outwitting, outplaying and outlasting everyone else for 55 days in a bid to win half a million dollars.
Wait, I'm sorry. What?
Traditionally, the rules of Survivor are 39 days for $1 million (USD, nonetheless) prize money.
But for some reason, this was the point at which the powers that be at Channel 10 were like, "Nah, let's make a point of difference." Competing for an extra 16 days for less than half the competition money? Sure. Why not?
It's island time. Source: Australian Survivor / Channel 10. 
As shots of the castaways being brought onto the island emerge, one clear question comes to mind. Were these people carried off by producers in the middle of Friday night drinks? Call me old fashioned, but red blazers and Air Max 90s aren't exactly screaming practical in a remote location.