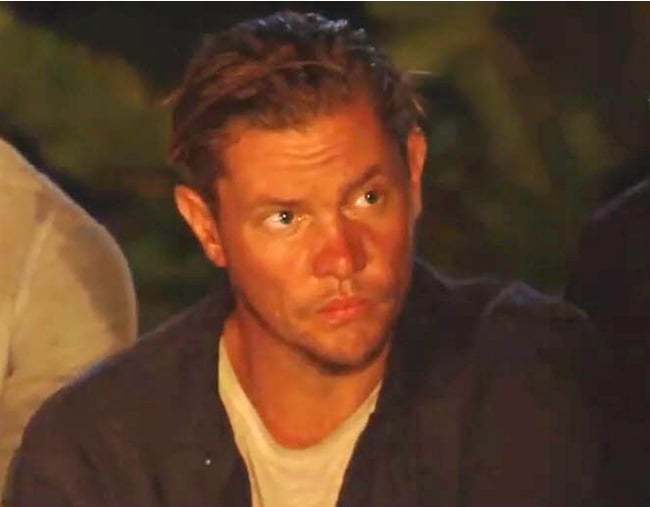 Monday night's episode of Survivor Australia: Champions vs. Contenders featured a particularly controversial elimination.
The Champions team was sent to tribal council after they lost the second puzzle challenge, something that put a target on world series poker player, and supposed puzzle master, Jackie Glazier. Despite this, former Special Forces Commando – and double amputee – Damien Thomlinson was voted out by the tribe.
Prior to the council, some tribe members described the former commando as a "liability" – something viewers saw as ableist and discrimination against people with disabilities.
Fans of the show criticised the fact that throughout the first three episodes, Damien was instrumental in helping the Champions team win challenges, in particular the throwing challenge in the first episode, but Jackie had yet to prove herself.
And they aired their grievances on Twitter accordingly:
Cowardly voting. #survivorAU

— Bucks' beard 2.0 (@joferguson9) August 6, 2018
I'm sorry, but voting out the guy with no legs because he is 'a liability at challenges' yet he outperformed many still remaining is weak as shit. Don't assume he can't do it just because he is disabled. Big ups Damian! #SurvivorAU

— Dylan Alcott (@DylanAlcott) August 6, 2018
honest to god they're cowards if they vote damien tonight. he hasn't done anything wrong, they're just threatened by his power. ableism isn't cool by me guys. the only reason they're voting for him at this point is because he's disabled. disgusting. send tweet. #SurvivorAU

— lucy (@flirtshes) August 6, 2018
Pretty gross how some of them talk about Damien being a weak link because he has a disability, when he has performed well in every challenge so far. Certainly better than Shane and Jackie have #SurvivorAU

— Meagan Date (@meagandate) August 6, 2018
HAI GUYS JUST A REMINDER THAT TRIBE VOTED OUT DAMIEN TONIGHT LITERALLY BECAUSE HE IS DISABLED. ABSOLUTELY PUTRID. #SurvivorAU

— Gentleman of Leisure (@Herr_Benjamin) August 6, 2018
Totally ableism in action. Damien has outperformed Jackie and most of the others in all challenges. #survivorAU

— Lynn Dang ????️‍???? (@LynnDangAU) August 6, 2018
Damien you held your own and proved you were every bit as capable. Absolute honor to have you on the show mate! Cheers! ???? #SurvivorAU

— Jonathan LaPaglia (@JLa_Paglia) August 6, 2018
What a joke. Its honestly disgusting that Damien was voted out.

No one, I repeat no one, should be made to feel as though they are somehow less worthy because of a disability.

Damien you are a true hero. Your team was too blind to see how amazing you really are.

— Ashleigh Taylor (@ashy_taylor) August 6, 2018
Maybe it was the editing but I don't remember Damien performing badly in any of the challenges? I remember him knocking down 3 planks at once in the first immunity? #SurvivorAU

— Annabel F (@annabelcef) August 6, 2018
#SurvivorAU swear to god, If this tribe votes out Damien, I'm boycotting Survivor. Disgusted by his tribe mates saying he's a liability – it's blatant ableism and simply not true. He's been smashing the challenges and brings way more to the tribe than Jackie does ????

— Tilly Baker (@TillyBaker6) August 6, 2018
Since his elimination, Damien has continued to be a keen spokesperson for people living with disabilities.
Speaking to The Daily Telegraph, the 38-year-old says he hoped his appearance on Survivor would inspire others.
"Hopefully anyone who is in a similar position will use that as a little piece of motivation to do something they won't expect them to be able to do, give them the confidence to step up. I would do it again tomorrow," he says.
What do you think of the Survivor controversy? Tell us in a comment below.