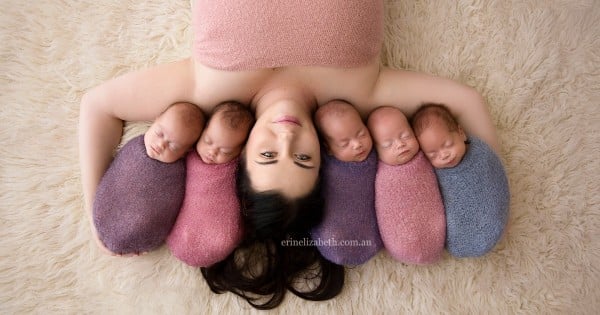 The parents of five newborn babies have shared moving images of their beautiful quintuplet clan.
The pregnancy of Perth couple Kim and Vaughn Tucci was what you'd call a one in a million-type story.
But in truth those numbers are a little off. It's actually a one in a 55 million story, because such are the odds awarded to those who fall pregnant with quintuplets.
Yep. That's one, two, three, four, five babies.
The images, which were captured by photographer Erin Elizabeth, show the bubs bundled up, individually, sleeping peacefully.
Born via caesarian in January, the quintuplets arrived at just 27 weeks and remained in hospital for a further six before finally going home.
Having been previously told that the couple were unlikely to conceive naturally due to Kim's endometriosis, the arrival of the quintuplets was news that temporarily knocked the couple out.
But four girls and one boy later, and the family, who already had two young daughters and a son from Kim's previous relationship is now up to a grand total of 10 and thriving.
"50 fingers, 50 toes, 6 hearts beating at once" Kim wrote on her blog, before adding that she and Vaughn now change 350 nappies a week, and do a staggering 40 feeds per day.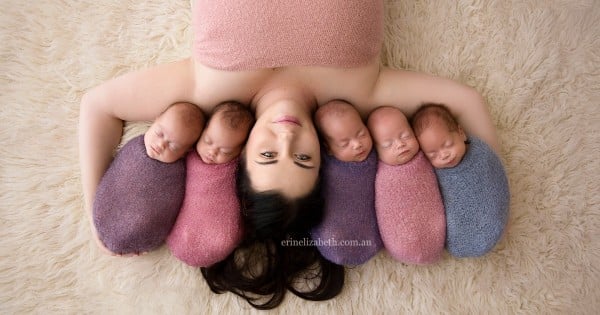 Kim with her quintuplets. Source: Erin Elizabeth Photography.
While the day-to-day management of Ali, Penelope, Tiffany, Beatrix and Keith is managed by the two parents and an army of family and friends, Kim admits that the transition has been an incredibly tough on.
"I have so many lives depending on me," Kim told 60 Minutes, before adding that since the birth, she sometimes "locks herself in the bathroom and cries on the floor".
And while the surprise has filled the young family with joy, the cost of caring for five newborns is as you can imagine, pretty steep.
Having to now travel in three seperate cars to actually get anywhere, the couple's grandmother has started a GoFundMe to help raise much needed funds for a new, 10 seater vehicle.