1. Girls as young as 9 being sent from Australia as child brides.
The practise of sending young girls away from Sydney to become child brides is "rife" with a "tsunami of kids" being taken overseas.
The Daily Telegraph reports at least 73 cases have been reported to the child protection helpline since July 2014.
Family and Community Services Minister Brad Hazzard described the practice as "barbaric and cruel" saying that religious imams need to educate their local communities to "recognise that forced marriage is completely unacceptable."
In one case, a 10-year-old girl was sent to Indonesia – also under the threat of female genital mutilation. Another involved a 12-year-old who was told she would have to marry her father's cousin when she turned 13.
"They should talk to their communities and make sure they understand it's completely unacceptable and criminal,"Mr Hazzard said.
"One youth home service — which has children from interstate, overseas and a number of children from Sydney — says this practice is rife."
"They told me they could fill their 65 beds with children who are escaping forced marriage. We have to get something done — it's a tsunami of children out there seeking help."
Most of the cases involve girls aged around 14, but two of them saw nine-year-olds sent overseas.
One of the nine-year-olds was sent to Afghanistan to marry, and the other was forced by her mother to marry a man in Pakistan.
2. Suspect arrested in New York bombings.
The main suspect in the New York and New Jersey bombing plots, Ahmad Khan Rahami, has been taken into custody injured after a police shootout.
The shootout took place in Linden, New Jersey, with Rahami shooting an officer with a bullet proof vest non-fatally in the chest in the exchange.
Earlier police linked the two bombing plots on Saturday the first in Elizabeth, New Jersey, where a series of homemade devices were found and the weekend explosion which injured 29 people in Chelsea, New York.
Police launched a manhunt for Rahami, 28, who was arrested after the shootout with police. FBI agents have also questioned five people believed to be members of Rahami's family.
3. Tiahleigh Palmer's mother names relative as owner of car police seized.
The mother of Tiahleigh Palmer, the 12-year-old found dead on the banks of the Pimpama River in Brisbane, has named the original owner of the car seized by police in a Facebook post.
In an extraordinary Facebook post yesterday, Cindy Palmer revealed that Tiahleigh's former foster father owned  the blue 2009 Ford Falcon XR6 sedan police seized last week.
"The car that was seized is identical to the one that … and … had, the one they had sold within days of Tiahleigh's body being found," she wrote.
Police soon instructed her to take the post down reports The Courier Mail.
The newspaper reports that they are in no way suggesting the people named in Cindy Palmer's post had anything to do with Tiahleigh's murder.
Police have offered a $250,000 reward for anyone who was not directly involved in her murder but can provide information which leads to the arrest of an offender.
4. Man injured in Minto terrorist attack thought he was going to die.
The man who seriously injured in a stabbing in the Sydney suburb of Minto has spoken about the attack for the first time saying he thought he was going to die.
Wayne Greenhalgh, 57, was walking along his Minto street on September 10 when a neighbour he had never spoken to allegedly slashed him with a knife and chased him down the road to a nearby hair salon.
He has spoken to A Current Affair saying he had a strange confrontation with his alleged attacker hours before the stabbing.
He said he saw the Ihsas Khan, 22, who has been charged with committing a terrorist attack and attempted murder over the incident on the morning of the attack standing on the verandah watching him.
Mr Greenhalgh said the 22-year-old appeared to be holding an open maroon-coloured book, possibly a bible, as he walked towards the pair without saying a word. Mr Khan stood directly in front of his face, closed the book, turned around and walked back inside.
"I said to my wife 'Christ, that was weird'… he didn't say a word," Mr Greenhalgh said.
Later that day he was attacked.
5. Belle Gibson was paid $75,000 for 60 Minutes interview.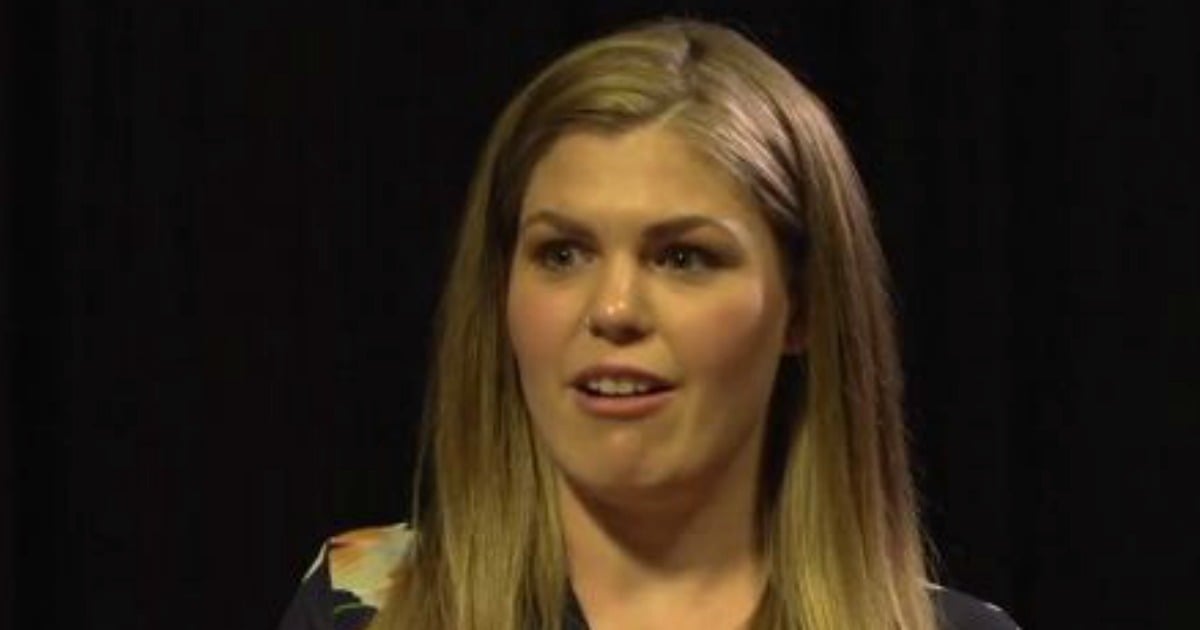 Belle Gibson had refused to say whether she was paid. Via 60 Minutes.
Fairfax Media reports that Belle Gibson was secretly paid $75,000 for appearing on 60 Minutes, after her global cancer hoax and charity fraud were first exposed.
Ms Gibson has previously refused to say whether she was paid the interview with host Tara Brown in June last year.
Fairfax Media reports invoices and remittance advice show Nine made two separate payments each of $37,500 to Ms Gibson's lawyers in July 2015.
Ms Gibson is facing a Consumer Affairs case in the Federal Court, and up to $1 million in penalties, for profiting off her false cancer claims and defrauding charities through her scam.
6. Three people stranded on Uluru.
Three men are stranded on Uluru and are in the process of being rescued after ignoring pleas by the site's traditional owners not to climb the rock.
Last night, a rescue operation was underway to winch the stranded climbers off the rock.
The three men, all aged 23, veered off the designated pathway into a restricted zone and became stuck in a crevice reports Fairfax Media.
"It's dark, they'll just be taking them down very slowly, most likely one at the time," a Northern Territory Police, Fire and Emergency Services spokesperson said.
"It is huge effort for the NTES volunteers. It's wear and tear on equipment and it does cost a lot of money," they said.
Climbing Uluru is not prohibited, the traditional owners of the rock, the Anangu, ask that people "respect our law and culture" and don't climb it.
7. Michael Schumacher 'cannot walk'.
A lawyer for Michael Schumacher has told a court in Germany that the former Formula 1 world champion "cannot walk" following his skiing injury.
Felix Damm was detailing the extent of Schumacher's injuries in a lawsuit against German magazine, Bunte.
The magazine had reported last Christmas that the seven-time world champion could walk again.
Mr Damm said that Schumacher, 47, "cannot walk" more than two and a half years after the accident.
Schumacher suffered a head injury in a skiing accident in France in 2013.
Do you have a story to share with Mamamia? Email us [email protected]