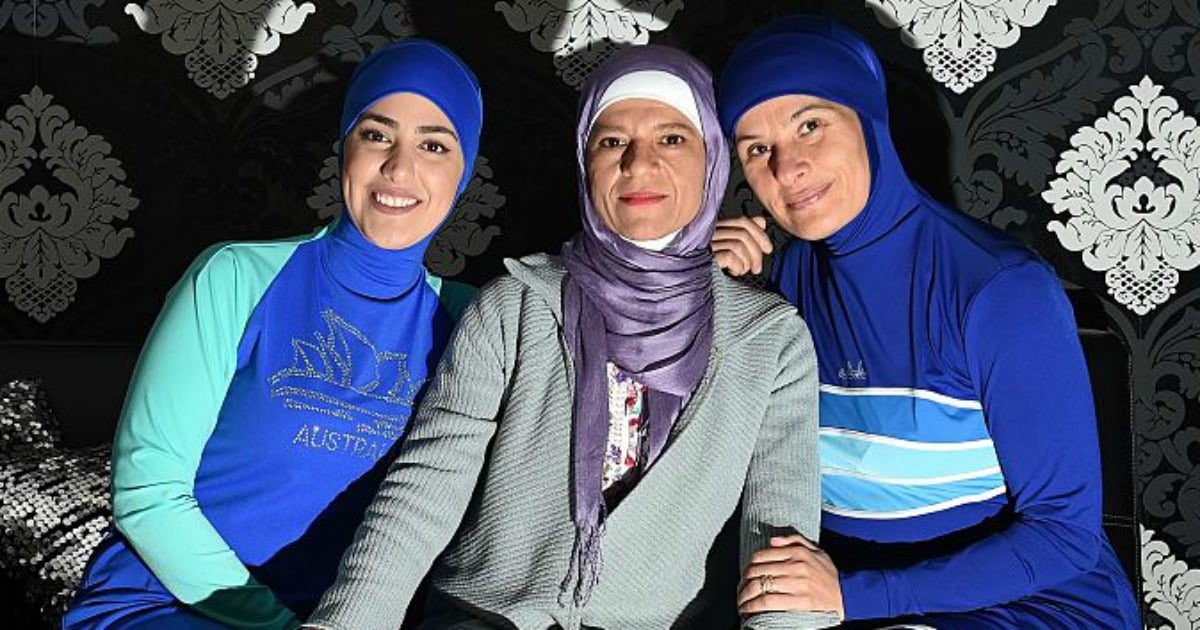 It was a sign of the times when France announced it would ban the burkini.
French Prime Minister Manuel Valls did not mince his words when it came to the country's new policy.
"There is the idea that, by nature, women are harlots, impure, that they should be completely covered. It is not compatible with the values of France and the Republic," he stated firmly.
"Faced with these provocations, the Republic must defend itself. Today, Muslims in France are taken hostage by these groups, these associations, these individuals who advocate for wearing the Burqini and would have you believe that the Republic and Islam are incompatible."
And like that, the cheerful one-piece swimsuit became an official enemy of the state.
But beyond the political storm that continues to engulf most of Europe, the real story of the burkini is a far cry from the terror and violence of ISIS, violent attacks, and Islamophobia. It's a happy story, one that actually started on the sandy beaches of Sydney with a woman named Aheda.
Aheda Zanetti lives in Bankstown, Sydney, and is the founder and designer of Ahiida swimwear. Originally from Lebanon, Aheda was watching her niece play netball in layers and layers of modesty clothing and uniform when she realised they needed to get with the times.
Practicing Muslims in Australia needed an option that was made from cool, breathable material, and appropriate for sports. And so the Hijood was born – a lightweight combination of a hijab and hood that she started selling at local events.
Watch: A simple guide to Muslim veils. (Post continues after video.)

Following the Cronulla riots of 2005, Sydney dove deep to repair the ties between the Islamic and non-Islamic communities.
Among other things, they invited Muslim women to become lifesavers on the beach but were stopped in their tracks by an obvious problem – what would they wear?
Aheda was the first person they called.
Her first model was to be 20-year-old Muslim lifesaver Mecca Laa Laa, who went viral online in her cheery red-and-yellow hooded burkini.
If a picture could tell a thousand words, this one spoke volumes: the ultimate symbol of Australiana was given a modern Muslim update. The burkini was a hit.
"From the moment we launched it, it has not stopped," remembers Aheda. "In 2005 we hit the worldwide news for the first lifesaving swimsuit we designed for Mecca Laa Laa, and I just couldn't believe such a thing could ever happen. It did extremely well. It's still doing extremely well."
Ten years on, and that same symbol of unity has been reappropriated as a symbol of fear, terror, and blatant racism.
"This swimsuit was representing integration, combining different cultures, female rights, modesty, Australian lifestyle, freedom and independance," says Aheda.
"This is what it was representing from the moment go. Taking an item that is so positive, and making it negative, is truly stupid."
Stupid indeed. The backlash from the French community has been vicious – Aheda recalls getting an email last week from France, asking how dare she try and cover up their women! They liked them naked, said the email, and they liked the idea of having sex on the beach. Ça alors!
Aheda was characteristically unruffled.
"I go, 'So be it'. You're allowed to do so. I'm not judging you, if that's what you want to do, do it!"
Despite the international attack on the burkini, Aheda and her team have thankfully remained out of the line of fire. She says that can count on one hand the times she has received negative feedback in her 14 years of business.
In fact, she only continues to gather more followers and more praise, as the years go on. Her burkini has an legion of fans spread across the world and cultures. It was about finally (finally!) been given an option of swimwear that served as a protection.
"More women out there are wanting to make those choices. And it doesn't matter if you're Muslim, non Muslim, Jewish, Hindu – it doesn't matter any more," says Aheda.
"We have choices. And if you want to cover up – for whatever reason – you have the right to do so. No person should tell us what the wear and what not to wear."
And not just people – men.
"The fact that there is a man out there, once again, telling us what and what not to wear is getting everyone angry," points out Aheda. "And it doesn't matter if it's the Taliban or a French politician, it's none of their business."
You can't help but hear traces of similarity to the feminist-based fashion revolutions of the 60s and 70s. It was a time where women were still fighting for freedom to wear what they want against a 'concerned' patriarchy. The only difference? They were stripping down, not covering up.
In fact, one story in particular comes to mind.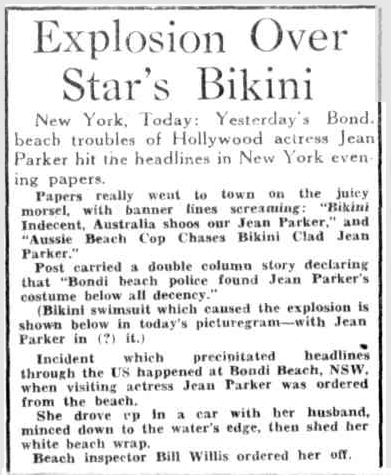 It was 1951 in Sydney, and Bondi Beach's Waverley Council was very strict about what could be worn on the beach. Those who did opt for bikinis were dubbed "feather-brained exhibitionists" and fined.
"One high-profile victim of these rules was Hollywood star Jean Parker, who visited Sydney in November 1951," says the National Library of Australia.
"Beach inspector Bill Wills told her her bikini was 'much too scanty' and escorted her off the sand — an incident that made headlines in the US."
"I've never been so embarrassed in my life," Parker lamented afterwards, adding "I thought that in such a sunny, healthy country these suits would be the thing."
Hmm. Sound familiar?
The burkini has opened a new lifestyle for women in general. So many women, particularly those who are Muslim, skin cancer victims, or suffering from poor body image, would never have found themselves at the beach, or a pool.
"If only you knew the amount of women that were prevented from going to the beach because of clothing issues," says Aheda. "It's opening up this market now. And you're telling me that we can't do that? It's not going to happen... women are just going to go to a different beach."
But whilst the burkini has gathered a strong non-Muslim fanbase, it is the Muslim women being targeted in France who are the concern of many. Patrice Spinosi, a lawyer with the Ligue des droits de l'Homme (League of Human Rights) has called the decision to ban the burkini a denial of 'fundamental freedoms'.
"[The Burqini ban is] a serious and manifestly illegal infringement of several fundamental freedoms: freedom of opinion, religion, dress, to come and go," she said. "Today, it is the beaches. Tomorrow it will be the streets."
It seems fitting, therefore, to end the article with a real life testimonial from one of Aheda's happy customers. Someone for whom the burkini was not a denial of freedom, but freedom itself.
This came from Lauren and Gus of Austin, Texas; about their exchange student Nour:
"We wanted to thank you for a wonderfully designed and built product. We host exchange students... One of the two this year is Nour, from Morocco.
We learned that two years ago, her cousin drowned in Ukraine... He didn't know how to swim. Nour doesn't know how to swim, either. So part of her Christmas gift this year is swimming lessons. Her Burqini looks fabulous on her...Her lessons will start in January, and then we will go as a family to the Gulf of Mexico on Vacation in March, 2016.

I cannot express my gratitude enough for a product like yours- it helps Nour feel comfortable, and maintain her modesty. It helps her feel confident about getting in the water as she learns to swim, and then to enjoy the water instead of being afraid of it.

She put it on this morning to see how it fit, and she came out to show us, and we saw a sense of confidence and ego strength coming from her. You helped her find that, and we are grateful."