The Saudi Arabian soccer team has come under fire after failing to honour a minute's silence for the victims of the London terror attack at a game against Australia.
And Sunrise host Sam Armytage has joined the chorus of voices condemning the behaviour.
"It's bloody disgraceful. I'm so angry about this today and we're thinking of the families of the two girls who were killed even more so," Armytage said on Friday morning.
"I'm not going to be impartial about this, I'm furious about this."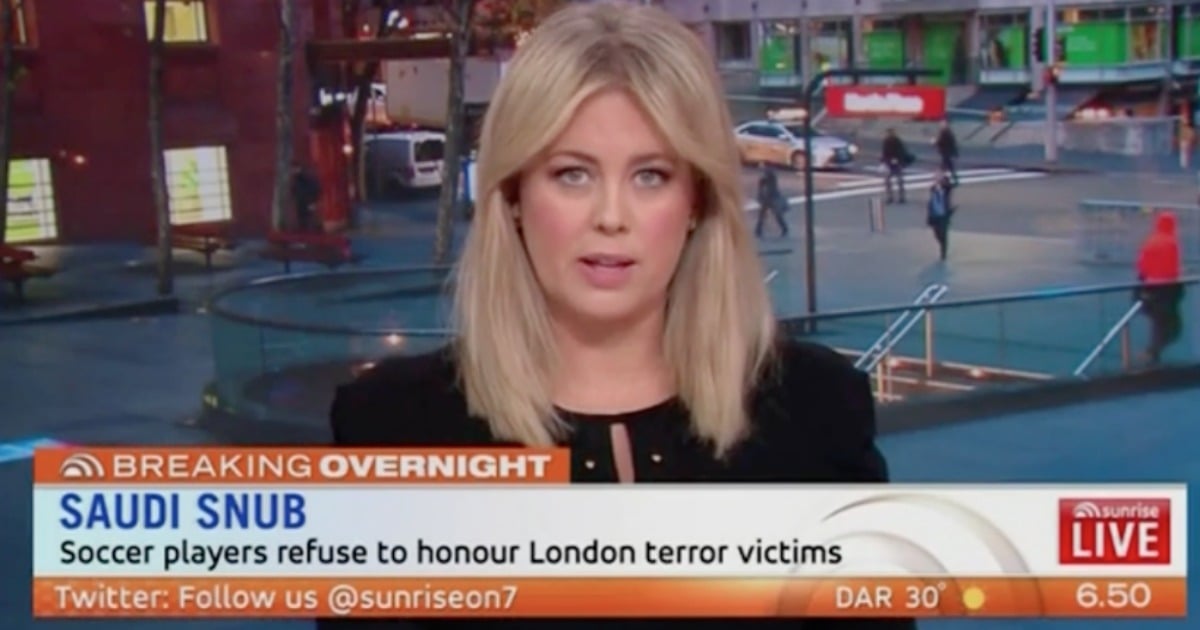 Armytage is not alone. Thousands of outraged Australians have taken to social media to share their disgust at what's being called a lack of respect by many.
The incident occurred on Thursday evening in Adelaide, when prior to kicking off their World Cup qualifying match, the Australian soccer team held a minute's silence to honour the eight people - including Australians Sara Zelenak and Kristy Bowden - killed in Saturday's London terror attack.
It is understood that the Saudi Arabian team was forewarned about the minute's silence and advised officials they would not participate, and instead used the time to stretch and warm up for the match.
"The Saudis said they would move off to the side, but it wasn't part of their culture to do this," Armytage said. "That didn't happen. How could it be against someone's culture to respect innocent civilians who have been slaughtered?"