When my daughter was a newborn we got sent all sorts of gifts, many of them clothing.
There was this one dress sent as a hand-me-down from a second cousin across the other side of the world that neither my partner nor myself had ever met. It was a pretty dress, inside the package was a card which mentioned it was her daughter's favourite when she was little. I looked at the dress, size 2, and thought how pretty it was and that we'd save it for a special occasion.
I thought to myself how pretty it would be as a flower girl's dress. It wasn't expensive, or extravagant, but we're not the sort of people that would have an expensive or extravagant wedding. A garden wedding would be just fine, with inexpensive outfits we felt good in, and a small crowd of people close to us.
Understated – but special to us.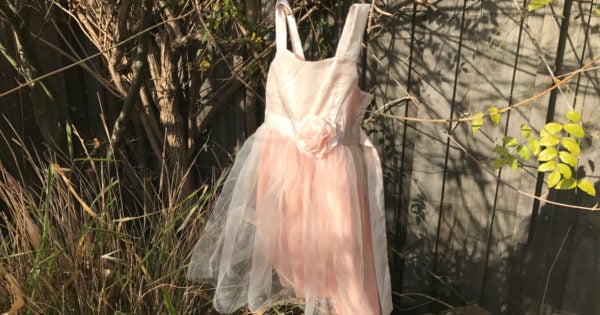 Two years have passed and my daughter has outgrown six clothing sizes since we received that dress. When we got it I really thought there was a good chance we could get married in time for her to wear it.
I often thought of the dress as the months passed, and it began to look less and less likely that she would ever wear it to our wedding. I thought I should put her in it anyway, just the once. But when I saw it in the cupboard this week I realised she would have outgrown it a year ago.
She never got to wear that dress.
Kids have clothes they outgrow before they ever get a chance to wear them all the time, but none of the other clothes ever bothered me like this dress.
While I was waiting for the 15th year in a row to be able to just get married, my kid outgrew her flower girl dress.
It got me thinking about all the waiting, and all the times I've felt so close to being able to have that simple right and then felt it slip away again.
I have waited through six different prime ministers (five if you take into consideration that one of them was the same dude twice) to get married.