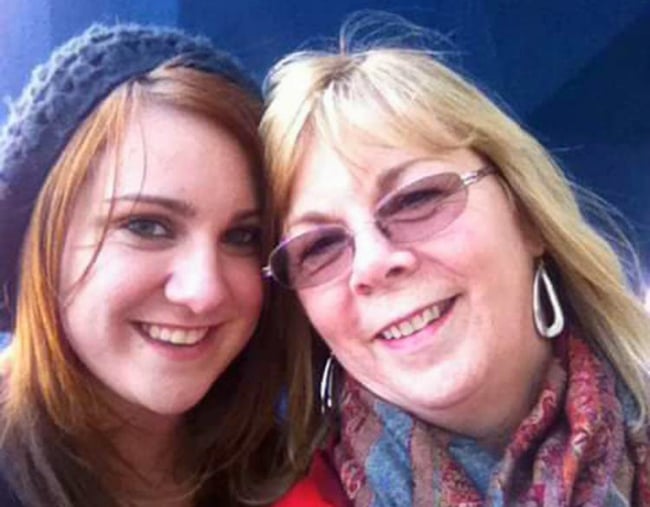 Six years ago, Jessica Redfield Ghawi walked into a midnight screening of The Dark Knight Rises in Aurora, Colorado.
Her childhood friend Brent, "a big Batman fan", was visiting from out of town, and after searching the internet for tickets to the mostly sold-out film, the then-24 year old secured two seats at the 12:05am showing at the Century 16 movie theatre.
Sadly, the young journalist along with 11 others would never walk out of that theatre.
On the sixth anniversary of the July 20, 2012 Aurora mass shooting, Jessi's mother Sandy Phillips has again spoken about life after Jessi was needlessly taken from their family, including her final conversation with her daughter.
Speaking with News.com.au journalist Matt Young, Sandy recalled how she and her daughter had been texting with each other, as they did everyday, minutes before a man walked into the packed cinema nine and opened fired.
"I woke up [that night], and I thought, "I'll text her to see if she's awake". She wrote back immediately that they were at a movie. She said, 'We're here now, we're going to see the Dark Knight,'" she said, noting that it was odd choice of film for her daughter.
Love and light to #Aurora families on this grievous anniversary. Lifting up Lonnie and @MamaRedfield ???? and @survivorsemp who do so much to heal other families and change laws from healthcare to background checks to campaign finance reform, all to #EndGunViolence. We love you. pic.twitter.com/DIK0iFYSZB

— (((sfpelosi))) (@sfpelosi) July 20, 2018
"I replied: 'Enjoy the movie and I'll talk with you in the morning'. She said: 'Go back to bed mum and get some sleep, I can't wait for you to come visit, I need my mamma.'"
That was the last text message Jessi ever sent. 20 minutes later, Sandy received the phone call that there'd been a shooting. Their lives "changed forever in that moment".
In a 2015 trial, the Aurora shooter was convicted of 24 counts of first-degree murder, 140 counts of attempted first-degree murder, and one count of possessing explosives.
Along with the 12 lives he took, 70 other movie goers were injured in the attack. He is currently serving 12 consecutive life sentences, plus more than 3,000 extra years at a high-security federal prison in Pennsylvania.
For the families of his victims, the suffering continues. Sandy described surviving her daughter as, "my husband and I walk through hell every day now." Despite their pain, Sandy and her husband use their loss to advocate for harsher gun laws.
Mia Freedman and Amelia Lester on why the Florida shooting felt different, and whether we'll ever see gun control in the US below. Post continues after audio.
Want to hear to more?  Subscribe to Tell Me It's Going To Be OK.
One small comfort for them is knowing their daughter was happy before she was murdered, that she received her mum's loving final text message.
"For a long time I didn't know if Jessi ever got that last text message from me or not, because, of course, her phone was held for evidence. When we got the phone back I found out she had," she said.
"That made me feel good. I know my text put a smile on her face. I knew her so well, I knew it made her smile."
You can read Sandy's full story as told to News.com.au here. You can also find out more about Jessi's Message here, an organisation established by her mother to empower victims and survivors of violence in the US to advocate in their communities.
What do you think it will take for the US Government to crack down on gun control? Tell us in the comments.