When interviewed, most stars only want to talk about work and nothing else. Private lives? Off the table.
But Arnold Schwarzenegger? Just don't ask Arnie about Donald Trump.
Weekend Sunrise today broadcasted a pre-recorded chat with the 68-year-old, that shows interviewer Angela Cox taken a little off-guard when Arnie terminated the interview upon being asked about fellow Republican Donald Trump.
When the former Governor of California was probed about his thoughts on the the presidential nominee, the Hollywood star bluntly told Cox he wasn't interested in responding.
'This is an interview that I only do about fitness and health, not about politics or my relationships."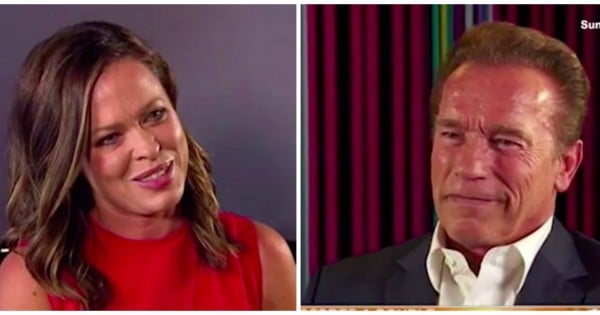 The Hollywood star is in Australia the Arnold World Strongman Championships and various other fitness and sporting events.
Just moments before he walked out after the Trump question, Schwarzenegger bluntly shut down questions about his marriage to Maria Shriver, which broke down in 2011 following the news he had fathered a secret love child with the family's former housekeeper.
When asked by Cox if he has mended fences with his family after five years, he flatly refused to answer, steering the conversation towards his work.
"Well the important thing is that I continue with my work and health and fitness is what really counts for me," he said.
Funnily enough, it's not the first time the actor has terminated an interview while visiting this week. Schwarzenegger appeared on The Project late last week and appeared to have better things to do than finish the interview, telling the panelists, "I've got to run".
Watch Arnie terminate his interview on The Project. (Post continues after video.)
He may be enjoying promoting his health and fitness endeavours, but if these interviews are anything to go by, we ain't so sure Arnie "will be back" in Australia anytime soon.